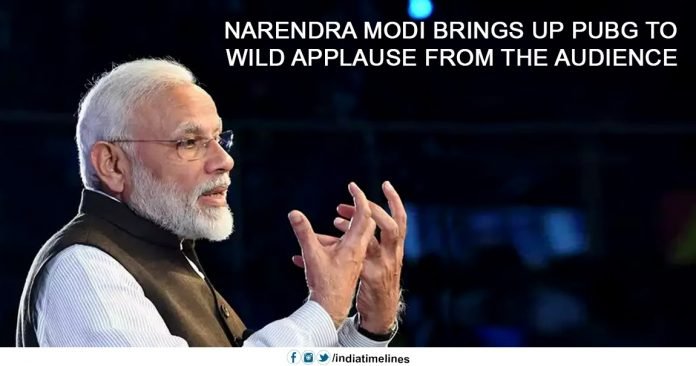 Narendra Modi brings up PUBG to wild applause from the audience: this program, PM Modi told the children and their parents, "If there is a slight difference in the one-half exams, then the life does not stop, every moment in life is required, in such a situation, the life on the floor of the criterion There will be stagnation in it. "
New Delhi: Children's education is being affected by online games. An example of this was found in Prime Minister Narendra Modi's 'Discussion on exam' program. In fact, a student's mother told the program that her child's education is being influenced by playing online games. The woman had sought advice from the PM Modi regarding the child's education. Responding to the child's mother, PM Modi asked- 'What is this PUBG?'
Narendra Modi brings up PUBG to wild applause from the audience
What did the woman ask PM Modi?
This lady named Madhumita Sen Gupta asked Prime Minister Narendra Modi, "My son is a Class 9th student. First of all, my son was very good at studies. Teachers also liked him, but for the past few years, his tendency towards online games has increased a lot. Due to which his studies are making a difference. I tried to explain it a lot, but I seem to have failed. Please guide me how should I handle this situation?
What Did PM Modi Response?
After questioning the woman, PM Modi asked, "What is this PUBG is that?" After saying this to PM Modi, all the students present in the program and their parents who begin to laugh and play applause. During this, PM Modi says, "There is a solution to this problem. We want our children to move away from technology, then they will start going backwards in a way. Therefore, we should encourage children to go to technology. But it is necessary to see this technique making him a robot or making a person. "
Narendra Modi brings up PUBG to wild applause from the audience, Life will not stay in the middle of one-half exams-Modi
In this program, PM Modi told the children and their parents, "If there is a slight difference in the one-half exams, then the life does not stop, every moment in life is required, in such a situation, the life on the floor of the criterion The stoppage will be there. Life means speed, life means only dreams. Pause is not life.
" PM Modi said, "It is written in a poem that," Childhood does not die because of the breakdown of some toys. " There is a big message hidden for everyone in it". "Parents and teachers should not take children's depression lightly", He said. To avoid depression or stress, counselling should not be too complacent, should contact the specialists who speak properly with the children. "