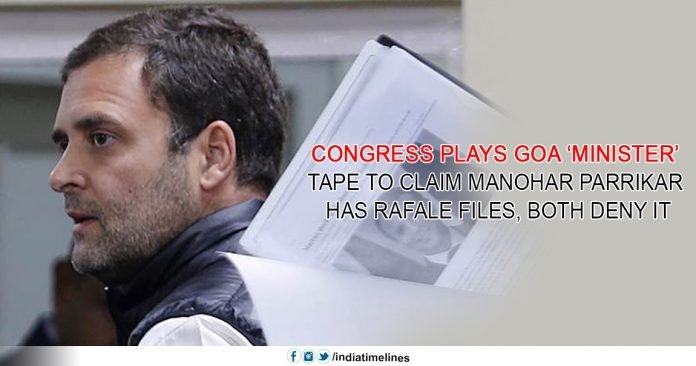 Congress plays Goa 'minister' tape to claim Manohar Parrikar:- At the same time, the case of the Rafale Deal has reached again to the Supreme Court, on one hand, the Congress has done 'audio war' on BJP. The clips claim that the important files of Rafale are in the bedroom of Manohar Parrikar.
Congress plays Goa 'minister' tape to claim Manohar Parrikar
Concerned about the Rafale Deal, Congress Party has attacked the government with the help of an audio clip. On Wednesday, the Congress claimed that former Defense Minister and current CM Manohar Parrikar had given some important information in the Goa Cabinet on the secret of Rafale Deal, who is imprisoned in his talks with his minister, Vishwajit Rane. Congress spokesman Randeep Surjewala also announced an audio clip of Goa Health Minister Vishwajeet Rane's interaction as proof of his claim. However, shortly after Goa Minister Vishwajit Rane claimed that the audio tapes were tampered with.
In a press conference, Rane said that Congress has tried to give a wrong input to the negotiations very slowly by giving a wrong input to the tape between the CM and the cabinet. Rane clearly said that Parrikar never mentioned Rafale or any document. He has also spoken about a criminal investigation. Earlier, in the audio released by the Congress, "The Chief Minister has made a very important statement that there is complete information on Rafale in his bedroom." The second person lays on this. Not only this, the clip has to be heard, 'You can cross check this from anyone who is involved in the cabinet meeting. He (CM) has said that every single document is in his room.'
Congress plays Goa 'minister' tape to claim Manohar Parrikar has Rafale files, both deny it
This claim of Razzel has once again got heated from Surajwala's claim. It is worth noting that the news has come at a time when a review petition has been filed on the decision on the Rafale issue in the Supreme Court today. The Congress party said in its statement, "It is clear from the talks with Goa minister that Parrikar allegedly said that nobody can do anything to him and he has all the files of Rafale."
Congress claims that Rafale is messed up at every level for which the watchman is responsible. Surjewala said that while the janitor had announced the unilateral procurement of Rafale in Paris on April 10, 2015, when Defense Minister Parrikar was buying fish in Goa. He said that the Defense Minister was not included in the watchdog's delegation, but Anil Ambani had gone with him.