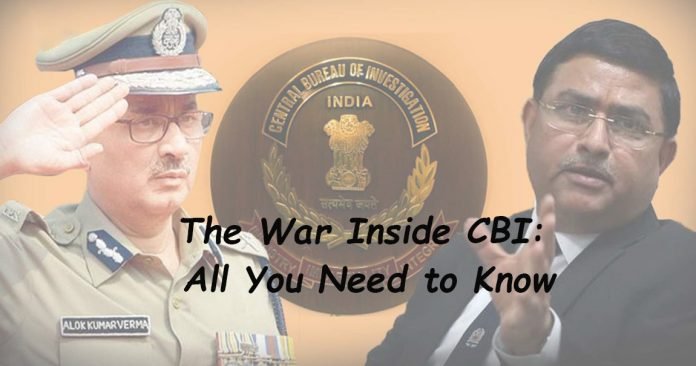 The War Inside CBI: After the past incident inside the CBI, it is now a difficult challenge for the CBI to investigate the high profile case related to corruption. Till now the investigation team headed by Rakesh Asthana was chief of investigating almost all the politically sensitive matters. The most important of his cases was Vijay Mallya's case. As per the sources, Asthana went to London regarding this case. With his departure, the investigating agency might be faced difficulty to try to bring Mallya back.
The War Inside CBI is still continuing..! There are so many other cases of Corruption apart from this with political significance. It includes the AgustaWestland Bribery case, in which various leaders of UPA-era were blamed for taking the bribe, Moin Qureshi's case. Coal Scam investigation is still going on. There is IRCTC scandal in which Lalu Prasad stuck with his whole family members. Sharada Chitfund Scan, in which several members of TMC responsible for. The CBI officers confirmed that after the appointment of New Director, the investigation will take almost one month to proceed on Next Step.
The War Inside CBI: All You Need to Know
After the fight between to Chief Officers in CBI, Central Government sent Special Director Rakesh Asthana and Chief Alok Verma on Holiday. After appointing new Director, within the few hours the whole team of CBI was replaced by other team members. The team who is investigating this case is completely changed by another team. Total 13 senior officers were transferred. All the officers who were handling the case of bribery again Special Director Rakesh Asthana have removed by CBI. As per the officials, the 13 officers who have been transferred, they were involved in this case, including deputy superintendent Ajay Bassi.
In CBI, Superintendent of Police S.S. Guram of the AC-3 Unit who were investigating against Asthana has been transferred to Madhya Pradesh, Jabalpur in the response of immediate action. Arun Kumar Sharma, The Joint Director (Policy) has been taken the post of Anti-Corruption by CBI and sent him to another place. Manoj Sinha, Deputy Superintendent who was handling the investigation against Rakesh Asthana has been transferred to Nagpur. As per the official news, Superintendent Satish Dagar, Joint Director V. Murugesan and Deputy inspector general Tarun Gauba will now handle the case against Asthana. Earlier, Satish Dagar investigated the case against Dera Sacha Sauda chief Gurmeet Ram Rahim Singh.