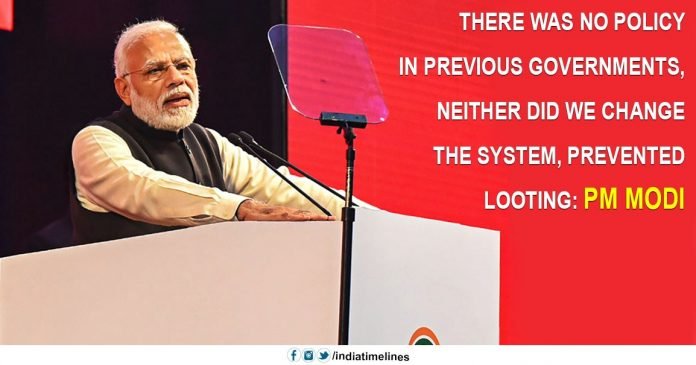 PM Modi targets Congress at NRI meet:- On 15th Pravasi Bharatiya Divas in Varanasi, Prime Minister Narendra Modi said that today's day is special for me too. I have also been present here as a host with the Prime Minister as a Kashi MP. Prime Minister Modi said that a former Prime Minister of our country must have heard something about corruption. He said that only 15 per cent of the money that the central government sends from Delhi can reach people. They accepted the truth that the country which ruled over this country for so many years, the system that gave it to the country.
But regret was that in the subsequent 10-15 years of its rule, this loot was not attempted to stop this leakage. The country's middle class continued to pay taxes honestly, and the party which has been in power for so many years continued to ignore this 85 per cent loot. We changed the culture of 15 paise. PM Modi said that with the cooperation of all of you in the last four and a half years, India has taken a major step towards achieving its natural position in the world. The first people used to say that India can not change. We have changed this thinking. We have made changes. The PM said that there was no policy in the previous governments nor did it, we stopped the system of looting.
PM Modi targets Congress at NRI meet, I bow to the wondrous thinking
PM Modi told the migrants that while considering you like the brand ambassador of India, I consider India's strengths and capabilities of India as a symbol of the characteristics of the country. This campaign of dialogue with all the Indians settled around the world was started by Atal Bihari Vajpayee. This is the first Pravasi Bharatiya Sammelan after Atal's departure. On this occasion, I also pay tribute to Atal, I bow to his great thinking.
PM Modi targets Congress at NRI meet said that all of you have come here from the soil side of our ancestors. Congratulations to all of you. In all the countries where you live, you see in the role of leadership in almost every area of society. Pravand Jugnath Ji is moving forward with Mauritius with complete dedication. Apart from this, many countries like Portugal, Trinidad-Tobago and Ireland have also got the leadership of such capable people whose roots are in India. PM Modi targets Congress at NRI meet.
It is also part of our goal that we are preparing such solutions to India's problems, which can solve the problems of other countries. Today India is the fastest growing economic power in the world, and even in sports, we have moved towards becoming a big power. Today, the infrastructure of the infrastructure is becoming big and modern, then it is also making records in the field of space. The PM said that in the last four and a half years, 5 lakh 78 thousand crores (i.e. around $ 80 billion), our government has given directly to the people under different schemes, transferred them to their bank account. Today India is ready to lead the world in many cases. We are preparing resources that can solve the problems of many countries. If you are growing in infrastructure today, then you are making great success in space too.
PM Modi targets Congress at NRI meet and said Government is trying to keep you safe
The Government's full endeavour is to be happy wherever you live and stay safe. Over the last 4 to 4 years, more than two lakh Indians stranded in the crisis have been helped by the government's efforts. In addition to your social security, passports, visas etc., the government is trying to simplify the process. A new step has already been taken for the expatriate Indians a few months ago. This is the result of the resolutions of 130 million Indians to restore India's glorious past. And I want to say today very proud that you are also involved in this resolution. PM Modi said that you are in Kashi, so I am looking at a similarity between Kashi and you all. Benaras city has been continuously introducing the country with the tradition of India's cultural, spiritual and knowledge. You are enshrining India and Indianism in your hearts, acquiring the world with the energy of this earth.
Today the whole world is listening to us and has been our own. This country has found a lot in the development of everyone with the vision of development. Even today, in the economic sector, we have moved forward and have also moved forward in the field of sports. Today our youth is making mobile phones, cars, buses, trucks, trains at the record level under Make in India and record food grain fields are also being produced.
Today India is in a position to lead the world in many cases. The International Solar Alliance is such a platform. Through this, we want to take the world towards One World, One Sun, One Grid. PM further said that in changing India, you can play a big role in research and development and innovation. The government is also trying to bring India's startup and NRI together, on a platform. Defence manufacturing can also be an important sector for you. Inspire at least five families around you to come to India from any country you live in. Your efforts will play an important role in enhancing tourism in the country.
PM Modi targets Congress at NRI meet, These people said that
Earlier on the occasion of Pravasi Bhartiya Divas, Mauritius Prime Minister Praveen Jugnath said in Hindi that my hymns to the Diaspora who were in this holy city. The Prime Minister of Mauritius said that we are in the lap of culture and here we will go to our own country with the blessings of Ganga Ji. He praised the various schemes of the Narendra Modi government, including Skil India, Make in India, Beti Bachao. Uttar Pradesh's Chief Minister Yogi Adityanath welcomed Prime Minister Narendra Modi and PM Praveen Jugnath of Mauritius. He thanked PM Modi CM Yogi said that Pravasi Bharatiya Divas are being organized in Uttar Pradesh with the efforts of PM Modi. PM Modi targets Congress at NRI meet
He said that keeping the ancient works of Kashi, it is being extended with modernism. External Affairs Minister Sushma Swaraj said that due to the influence and leadership of Prime Minister Narendra Modi, India's prestige has increased in countries outside the country and you have also increased the respect and dignity of the people. The External Affairs Minister said that if there is no railing between the Governor and the Chief Minister, the development of that region is sacrificed to the dispute, but the governor and the Chief Minister of Uttar Pradesh are on the same page, hence the development is being done at a faster pace.