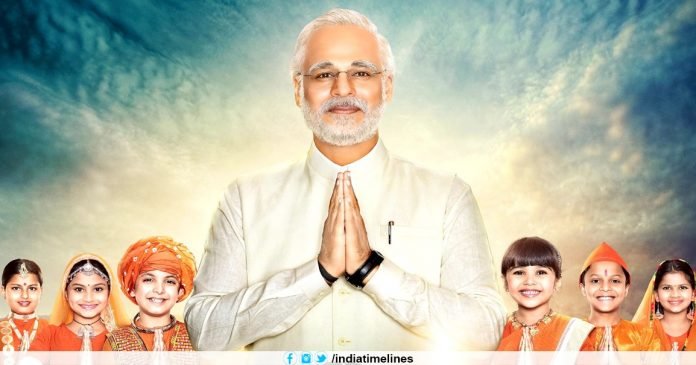 New Modi Biopic Poster Released: After waiting for a long time to release, the country's Prime Minister Narendra Modi's biopic is now ready for release. This film of Vivek Oberoi will be released on Friday, but before that, a new and tremendous poster of the movie has been launched. PM Modi is seen shouting on Conch Shells in the poster.
The poster film's lead actor Vivek Oberoi has shared on his social media wall. While sharing this poster, Vivek has also written a caption. That's why their full enthusiasm is clear. Vivek has written in the caption, "Every major task in India is started by conch shells".
New Modi Biopic Poster Released
It is a huge sight on all the posters so far. In this poster with the combination of saffron and red colours, it is written, "PM Narendra Modi again, no one can stop." This tag line is also pointing to the pre-estimates of the results of the election.
Vivek Oberoi played the character of Narendra Modi in the film. Amit Shah's role is being played by actor Manoj Joshi. As well as Darshan Kumar, Boman Irani, Prashant Narayanan, Zarina Wahab, Barkha Bisht Sengupta, Anjan Shrivastav, Yatin Karkarekar, Rajendra Gupta and Akshat R. Saluja are among the main roles. Suresh Oberoi, Anand Pandit and Acharya Manish are also the producers of the film.
Significantly, this biopic made on Prime Minister Narendra Modi's life was decided to be released on April 5, then it was revealed that it will be released on April 11. But now the film is being released on May 24. For the latest updates, you can visit www.indiatimelines.com.
The opposition parties have shocked the trend of various exit polls (EXIT POLL), which ended on Sunday, the last phase of the Lok Sabha elections, 2019. According to these exit polls, once again in 2019 Modi government is going to be formed. On the exit poll, the Bharatiya Janata Party (BJP) gave an enthusiastic response and said that it shows the atmosphere in favour of Prime Minister Narendra Modi.