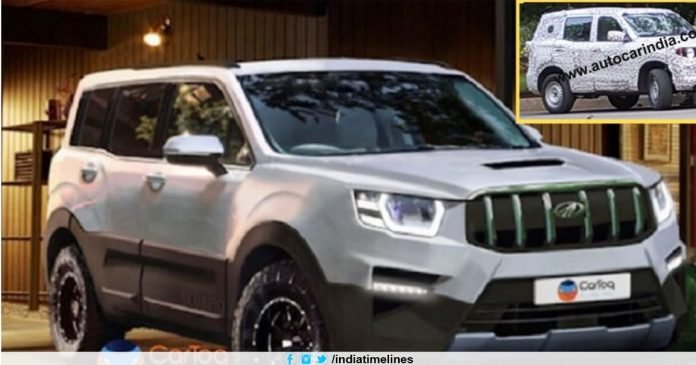 2020 Mahindra Scorpio SUV new gen spied testing: -Mahindra is preparing to bring its popular SUV to a new incarnation of Scorpio. The new Scorpio with codenamed Z101 has recently been seen in Tamil Nadu during testing. It has become clear from the leaked photographs during testing that the new Scorpio is lesser than the current model, but will be much longer.
2020 Mahindra Scorpio SUV new gen spied testing – Launch Next year
The new Scorpio will be based on the updated ladder-frame chassis of the company. Mahindra Thar will also be made in 2020 on this platform. The leaked photos have become clear that new Scorpio's body panels will be new and changes in its design will also be seen. The slated Mahindra grill is visible on both sides of the front with the wraparound headlamp. New Scorpio from the front is looking much longer than the current model.
Bonut scoop is not visible in the new Scorpio in the picture. Scorpio is fully covered during testing, but it is known that Strong Character Lines are given on the side of the SUV. Doors are looking long, thereby believing that its EL- base will be long and it will get more space inside it. The height is slightly lower than the current model, but Scorpio's overall superb look remains intact. For more details, you can visit www.indiatimelines.com.
Power
According to the reports, the new Scorpio will have Mahindra's new 2-litre, 4-cylinder diesel engine, which will generate around 160 Bhp power. The engine will be equipped with a 6-speed manual or automatic transmission. This engine would be favourable to the BS6.
The company has not said anything about the launch of new scorpions, but it is believed that it will be launched at the beginning of the year 2020. Its price will also be slightly higher than the current model. Now Scorpio's initial X showroom price is 9.96 lakh rupees.