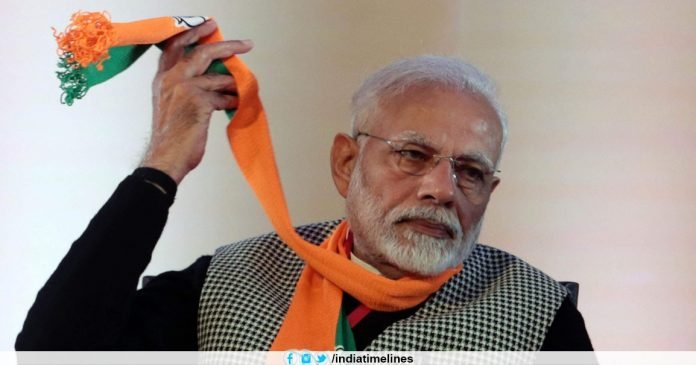 PM Modi Targeted Congress Over Alwar Gangrape Case- Ghazipur: PM before voting in the seventh phase of Lok Sabha elections in Uttar Pradesh, Modi attacked Congress during the rally on Saturday in Ghazipur constituency. The PM made serious allegations against the Congress while referring to the Alwar gang rape case. He also targeted the Buddhist people and the authors who had earlier given the award in connection with this gang-rape case in Rajasthan.
Targeting the Opposition, the PM said, "In our five-year tenure, our government has given respect to women and there is a provision for hanging for a heinous crime like rape, but how the Congress is working for women's protection, that country Seeing? '
PM Modi Targeted Congress Over Alwar Gangrape Case
This is the truth of Congress's justice: PM
Addressing the Congress, PM Modi Targeted Congress Over Alwar Gangrape Case, "A news of Alwar has started coming out for the last three days. Two weeks ago there was a girl raped by some unarmed people. But instead of catching these mischiefs, the police and the Congress government there started hiding the case. The Congress did not want that news came out before the election and therefore wanted to hide the news. Rather than giving justice to the daughter, instead of getting justice, Congress saved credibility in elections.
Why's Award- wapsi Gang is Silent
This Award- wapsi Gang, I would like to ask him, why is your gang still sitting silent with Alwar's daughter being raped? '
In the speech, PM Modi said, "During this entire election, SP-BSP has been attacking my caste. I have been born in the backward castes but I am doing whole day work for Backward and Poor people. I am the longest CM of Gujarat and I am a PM for five years, look at my bank account and show me if I have a bungalow. I know the pain of the poor, I have not raised the money for myself and have given nothing to the family but I am doing it for all 130 million people. These abuses will be my attention to the country.
Target Congress's over Kumaraswamy's statement
During the rally, PM Modi said that, if you go to the border then there will definitely a son of Ghazipur serving nation and every village here is discussed in the entire country. You need to know what the opposition thinks about the country's defence. What I am about to tell is bring a tear in the eyes of the whole country. In Karnataka, Congress made CM, the father of that CM once was PM of the nation. Those who are running the government in Karnataka said that only those people go to the army, who do not have money to eat and die hungry. Do Ghazipur and Purvanchal send their children in the army because they have no money to eat? Is it not an insult to the army and you will not answer these people with strength or not? For further details, you can visit www.indiatimelines.com