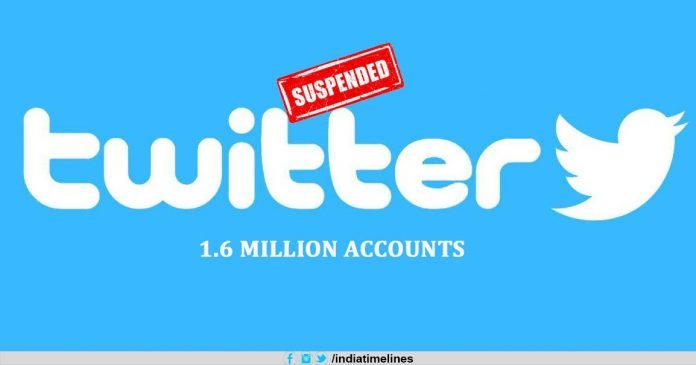 Twitter suspends over 1.6 million accounts: Twitter has suspended 166,513 accounts for promoting terrorism between July to December 2018 from the microblogging site Twitter. On behalf of Twitter, it has been said that due to the 'zero-tolerance policy enforcement' platform, the use of Twitter by terrorist organizations has decreased rapidly.
Twitter suspends over 1.6 million accounts
Twitter's Legal, Policy and Trust and Safety Lead, Vijaya Gadde said that compared to the previous reporting period (January-June 2018), tensions related to terror have now reduced by 19 percent. In a blog post, Vijaya wrote, "Of all the accounts that have been suspended, 91 percent of them were flagged by our internal technical tools and found to be wrong." She wrote, 'We received a request from the governments of 86 countries to provide information.
Out of this, the US had sent 30 percent information requests and in this category, there were 35 percent requests from other global accounts. ' It has been said that Twitter takes action on the account even before tweeting in such cases.
The blog said that after US, 24 percent from Japan, 13 percent from the UK, 6-6 percent from India and Germany, and five percent from France, Information was sent to Twitter. Gadde said, "We received 8 percent less legal request to remove content from our platform compared to the previous reporting period, and similarly it was affected by 2 percent less account compared to the previous period." For the first time, Twitter received 27,283 accounts related to 48 countries, including Bulgaria, Macedonia and Slovenia for the first time. For latest information, you can visit www.indiatimelines.com.
It has been said from the company that 74% of all legal requests have been requested to remove the content shared with Russia and Turkey only two countries. During this reporting time, Twitter removed 456,989 unique accounts due to allegations related to child sexual abuse. However, this number is less than 6 percent compared to the previous reporting period. About 96% of these accounts were photographed through Twitter and the rest of the tools have been flagged by Twitter and made the necessary steps.