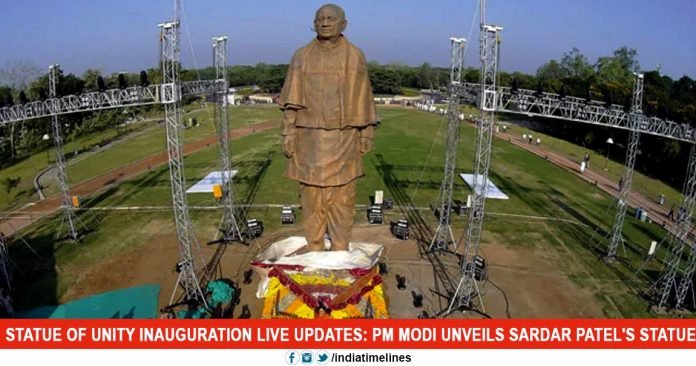 PM Unveils Sardar Patel's 2900-Crore Statue Of Unity Today: On the occasion of the birthday of Sardar Vallabhbhai Patel, PM Narendra Modi inaugurated Sardar Vallabhbhai Patel's highest statue of the world i.e. "Statue of Unity". Narendra Modi told about 'India's Unity, Zindabad' and requested to follow the path shown by Patel for 'Ek Bharat Shreshtha Bharat''
PM Narendra Modi today revealed the Statue of Unity, which is tallest in the world i.e. 182 meters, as a respect to freedom symbol Sardar Vallabhbhai Patel on his 143rd birthday. Indian Air Force planes showered flowers on the statue in a big inauguration in Gujarat at the banks of the Narmada river as PM Modi devoted it to the country. The Sardar Patel statue, twice as long as the Statue of Liberty, has been worked at an expense of Rs. 2,989 crore and is situated in Gujarat, 3.2 km downstream of the Narmada dam. Anticipating protests by local people who request pay for the land utilized for the enormous statue, police workforce were sent in event of the inauguration.
PM Unveils Sardar Patel's 2900-Crore Statue Of Unity Today
"Today is the day that will be remembered ever of," said PM Modi, paying sparkling tribute to Sardar Patel. He said the Statue of Unity is "an image of our engineering and technical prowess." Online booking to visit the Statue of Unity has opened with an Rs. 350 affirmation expense for the 153-meter-high observation deck. PM Unveils Sardar Patel's 2900-Crore Statue Of Unity Today
The statue describes Sardar Vallabhbhai Patel, India's first Home Minister, wearing a traditional shawl and dhoti, overshadowing Narmada river. Iron was gathered from everywhere throughout the nation for the statue of Sardar Patel, they are also called the Iron Man of India. The statue can withstand extreme earthquakes and serious wind velocity.
The statue has been structured by Padma Bhushan-winning stone carver Ram V Sutar and has been worked by Larsen and Toubro and the state-run Sardar Sarovar Narmada Nigam Ltd. It took around 3,400 workers and 250 Engineers to build the statue in 33 months.
Mr Gandhi again assaulted PM Modi's Statue of Unity project. He depicted it as amusing that the statue of Sardar Patel is being inaugurated, yet "every foundation he helped assemble is being smashed."