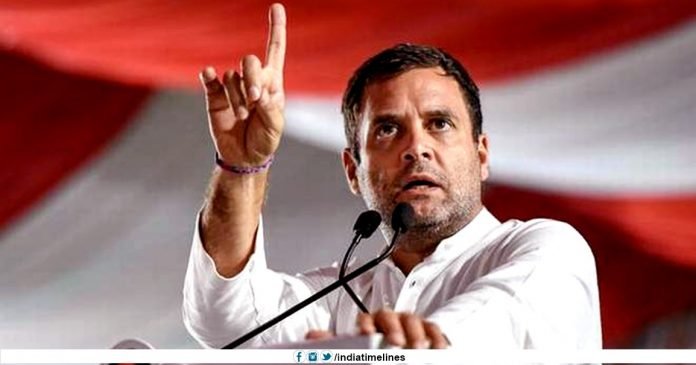 Supreme Court issues contempt notice to Rahul Gandhi:- The Supreme Court on Tuesday issued a contempt notice to Congress President Rahul Gandi for a statement on Rafale's decision. The Apex Court said that the will hear on April 30 the petition filed by BJP's Meenakshi Lekhi against Rahul Gandhi. " I am only sorry for the Supreme Court Slogan. I Sound by my political Slogan 'Chowkidar Chor Hai'. I  am sorry for the Supreme Court's responsibility for this." Abhishek Manu Singhvi presented  Rahul Gandhi Behalf. The court then issued a contempt notice to him and listed the matter on April 30 with a review petition for the hearing.
Supreme Court issues contempt notice to Rahul Gandhi for remarks on Rafale verdict
Singhvi said that BJP leaders had also claimed that the Supreme Court had given a clean chit to the government regarding the Rafale deal when it did not really do so.
"I have taken the decision of the court. Singhvi said that we do not have time to file a contempt case.
The BJP said in its presentation, "Rahul Gandhi said in his affidavit that he has not read the order." According to us, the affidavit submitted by him is not an apology, it is a lip service of forgiveness. "
A bench headed by Chief Justice Ranjan Gogoi said that in the contempt petition Gandhi's senior advocate Abhishek Manu Singhvi said that we are suitable for issuing a notice to the defendant (Rahul Gandhi). The Bench of Justice Deepak Gupta and Sanjiv Khanna said that we also instruct the Registry to be listed on next Tuesday along with the reconsideration petition. For the latest updates, you can visit www.indiatimelines.com.
Rahul Gandhi must be present on Tuesday as it is a criminal contempt petition and a notice has been issued.
"From Amethi to Wayanad, Rahul Gandhi revolves around saying that SC found 'watchman' a 'thief' in a rafale deal, even without regard to reading the SC order for small political gains. People have immense faith, Rohatgi said that when the Supreme Court and when some are held responsible for the apex court, then the people believe in this statement. Some limits for the attitude of Rahul Gandhi's felony Should.