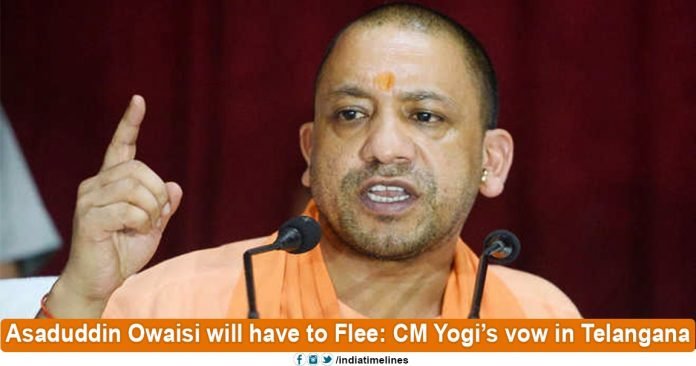 Telangana Election 2018: Uttar Pradesh Chief Minister Yogi Adityanath on Sunday attacked an AIMM chief Asaduddin Owaisi during a poll rally in Hyderabad here. In the speech of CM Yogi, he mentioned if BJP wins the Telangana Election then Owaisi will have to leave Hyderabad at any cost.  Let me tell you, recently, in the Alwar of Rajasthan, Yogi had told Hanumanji as a Dalit, after which his statement has got bigger.
Telangana Election 2018: Latest News
"If BJP wins and comes to power, I am giving a guarantee to all of you that Asaduddin Owaisi will have to leave Telangana in the same way, same as Nizam had to be forced to flee from Hyderabad." UP Chief Minister  Adityanath Yogi said. During his speech, he also told about the TDP Government of Telangana by targeting them.
CM Yogi said, "I have full faith that in the future, the BJP government in Telangana will definitely come up." After the Congress, the TDP government has been harming the interests of farmers and backward classes here. He said that without any discrimination under the leadership of PM Narendra Modi, development has taken place, hence the people should bless the BJP.
On the other hand, BJP President Amit Shah on Sunday targeted at AIMM and Congress, including TRS, in an election rally in Narayan put. He said that TRS had knocked him in front of AIMIM. Shah also said that in the Congress manifesto, the promise of electricity for the mosque and the church was done but not for the temple.
Uttar Pradesh's Chief Minister Yogi Adityanath is campaigning for BJP in Telangana. During the public meeting here in Hyderabad, Yogi said that if the BJP comes to power, Owaisi will have to flee from Hyderabad. The Yogi attacked AIMIM Chief Asaduddin Owaisi here directly. He also targeted the TDP government of Telangana.