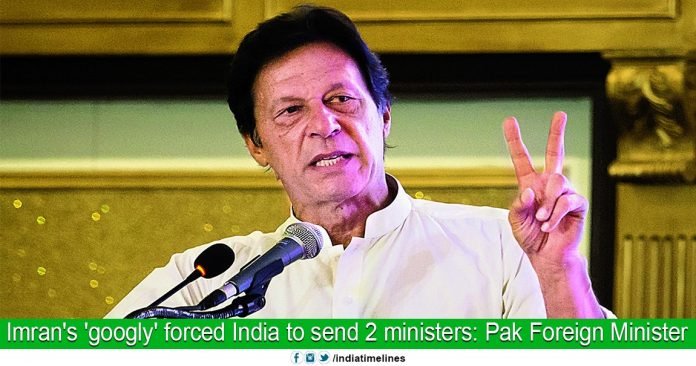 PM's 'Googly' Forced India to Send Minister: Pak  Foreign Minister, Prime Minister Imran Khan may have talked about peace, friendship and progress in the program of Kartarpur corridor but within 24 hours, his minister made clear that what is the real intention of Pakistan. Yes, on the occasion of the completion of 100 days of Imran government, Pakistani Foreign Imran Khan, India Pakistan, kartarpur, Prime Minister Imran Khan, Shah Mehmood Qureshi, sushma swarajinister Shah Mahmood Qureshi said that Kartarpur event was, in fact, the googly of Imran Khan. The special thing is that when Quraishi was speaking it, Imran was listening to him sitting in front of the program.
PM's 'Googly' Forced India to Send Minister: Pak  Foreign Minister
Qureshi on Thursday called India the second important neighbour after Afghanistan. He said that Imran Khan made Pakistan PM as soon as he became the PM, wrote the letter, "Let's talk about meeting and they are ready to meet in New York, but it seems that there (India) The state came under attack.
Smiling, the Pak Foreign Minister said, "You saw and the world saw that yesterday Imran Khan threw the googly from Kartarpur and what was the result of that googly that it had to send two ministers to the person who was straying from getting the Hindustan. They came to Pakistan. ' On Thursday, the Imran government completed its initial 100 days after winning the general elections. On this occasion, Qureshi used the terminology of cricket, saying, "Imran cast a googly and India sent two ministers to Pakistan."
This comment from Qureshi has come on a day before Foreign Minister Sushma Swaraj, in which she dismissed the possibility of resumption of dialogue with Pakistan, saying it did not stop Pakistan till terrorist activities against India Until then the conversation is not possible.
Let us tell you that Pakistan had earlier invited Swaraj for Kartarpur program on Wednesday but Swaraj had expressed her inability to come to Kartarpur Sahib while citing earlier commitments. Two central ministers – Harsimrat Kaur Badal and Hardeep Singh Puri – represented India in this program. Qureshi said that the opening of the Kartarpur Border Cricketer is a major achievement of the government of Imran Khan.