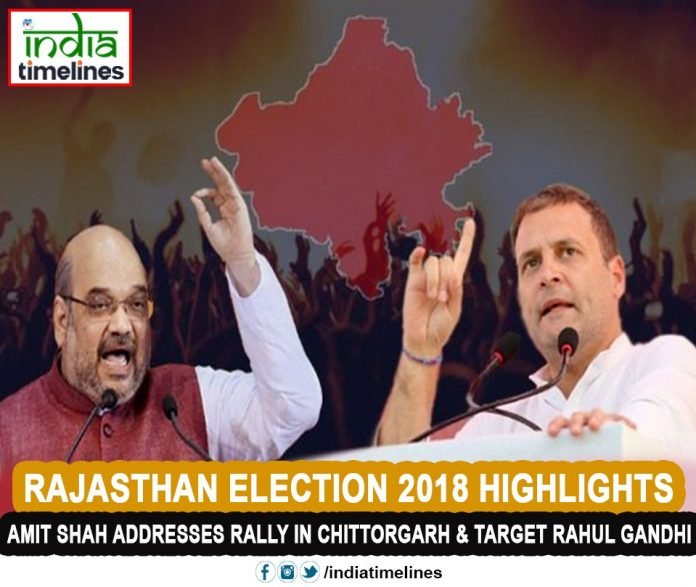 Rajasthan Election 2018 Highlights: Amit Shah Addresses Rally in Chittorgarh & Target Rahul Gandhi: Only a Few Days Remaining in the Rajasthan Assembly Election 2018 for which all the parties are engaged in publicity. BJP President Amit Shah also reached Chittorgarh for campaigning and he accused the Congress of standing in support of the intruders.
Rajasthan Election 2018 Highlights
Shah, Who arrived in Chittorgarh on Monday, hit out the opposition Congress Party. He Said, 'On one hand, the people of Congress have seen in the political strike and on the other hand the Congress party stands in support of the intruders who enter the country. The Modi government has done the task of securing the Country."
Shah said, ' on one side, under the leadership of Modi, there is a party of patriots. On the other hand, Rahul is a party led by Baba, who has no policy and theory. Now the public has to choose between BJP and Congress. On the Basis of the works of development done by Pm Narendra Modi, BJP Government has been formed in one state after another.
When the BJP president did not declare CM's face in Rajasthan in Rajasthan, he said, "why is Rahul Gandhi not telling the name of his commander to the people of Rajasthan? The Congress party is playing with the security of the country due to the self-interest of its vote bank. The Congress party, which is a private limited Company of the Nehru- Gandhi family, can not develop Rajasthan and the country.
Earlier, after reaching Rajasthan from Telangana to Rajasthan, the BJP president worshipped at Sanghalia Seth temple and Anagadh Balaji temple after reaching Chittorgarh. Significantly, the elections to be held on December 7 in Rajasthan, whose results will be on December 11.