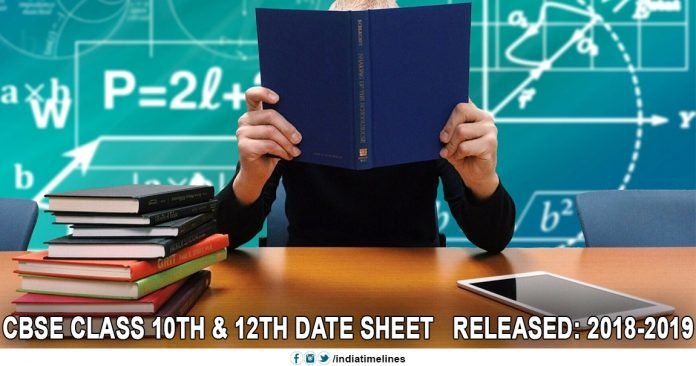 CBSE Class 10th and 12th Date Sheet Released for 2018-19 Exam:- The CBSE board released the notification for both classes 10th & 12th. Central Board Of Secondary Education released the mainboard exam date sheet/timetable/schedule for High School and Intermediate for the academic year 2018-2019.  The Central Board of Secondary Education (CBSE) finally announced that exams for Class 10 and Class 12 will start from March 5 as per as possible. Any time you can get a shocking news that CBSE class 10th and CBSE class 12th exam final date has been fixed.
CBSE Class 10th and 12th Date Sheet Released, check Below
CBSE affiliated schools to start the practical exams by 16 January 2019 and end them by 25 February 2019. The schools are supposed to upload the marks before 25 February 2019. It is important for students appearing in CBSE (Central Board of Secondary Education) board schools. Lots of candidates appear in CBSE 12th from India & abroad.
According to the date sheet released by CBSE, the exams for Class 10, in which sixteenth lakhs thirty-eight thousand five hundred fifty-two students are expected to appear, will conclude on April 4. Class 12th  examinations will end on April 12. CBSE board organized the board exam for the class 10th and 12th in the month of March and April per year.
The students can check and download the date of the CBSE Board Examinations on the official portal of the CBSE – www.cbse.nic.in.
The issue of CBSE Admit Card, The Heads of Affiliated Schools shall detain eligible candidates from appearing at the examination"
Sample Paper and Marking Scheme of 10th and 12th classes sample paper uploaded.
CBSE 12th Class registration has been started.
English Exam Pattern of CBSE 12th has been changed now.
12th  CBSE Result will be announced in May 2019.