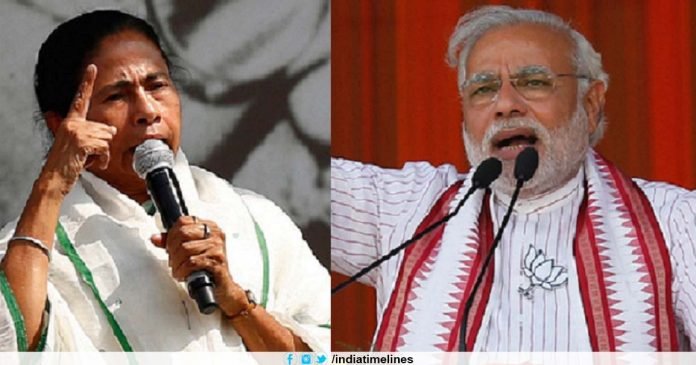 In hub of illegal migration, battle is between PM Modi and Mamata Banerjee: The Ichamati River determines the boundary between India and Bangladesh. Every year after the Durga Puja, the Hindus from both countries gather on the side of this river and do pooja. While this opportunity shows unity among the people of India and Bangladesh, by taking advantage of this opportunity, many people even illegally enter the Indian border. In recent years, after the Durga Puja, the Security Forces has increased its activity here, but Bangladeshi easily cross the river and come to India.
There was no discussion on this matter till now, but now the BJP has started raising the issue with a loud noise. BJP has raised the issue of the NRC and Citizenship Amendment Bill in the last few days to remove the migrant Muslims living illegally.
In hub of illegal migration, battle is between PM Modi and Mamata Banerjee
In the last phase of Lok Sabha elections, there will be voting in Basirhat also. This issue has been raised by BJP candidate Syantan Basu in his speeches many times. Now, this issue seems to be polarizing gradually because some small hotels in the area have started telling themselves as Hindus and they say that beef is not sold here.
In last year, incidents of communal violence have been more than 2 times in Basirhat. BJP expects that it will succeed in polarization in this area. Trinamool Congress removed Idris Ali in the area, where the popular actress Nusrat has carried forward. While Kazi Abdur Rahim fighting here on behalf of the Congress, whose father Abdul Ghaffar is one of the most respected members of the area. But these elections are being directly considered as the fight between West Bengal Chief Minister Mamata Banerjee and Prime Minister Narendra Modi.
In hub of illegal migration, battle is between PM Modi and Mamata Banerjee- Mamata Banerjee is raising issues of direct development in the elections and is promising to stop cows and human trafficking. She has also opposed the NRC and the Citizenship Amendment Bill, which has become her favourite among the Muslim voters.
Along with this, she also emphasizes the development of border town Taki, where facilities like government colleges and guest houses have been made in the last few years. For the latest info, you can visit www.indiatimelines.com.
But in this area, cows and humans are also smuggled extensively. Although the Trinamool looks in a strong position in the area, in some cases it may also face tough competition. Nemai Mandal, a small businessman in the local area, says that the rule of Trinamool Congress has increased in corruption though he also praises the development works done by the government. He says, "They (Trinamool Congress) are better than Modi who are trying to divide us." But a person selling a tea away from them said, "We are expecting when BJP comes and asks us to vote for us."