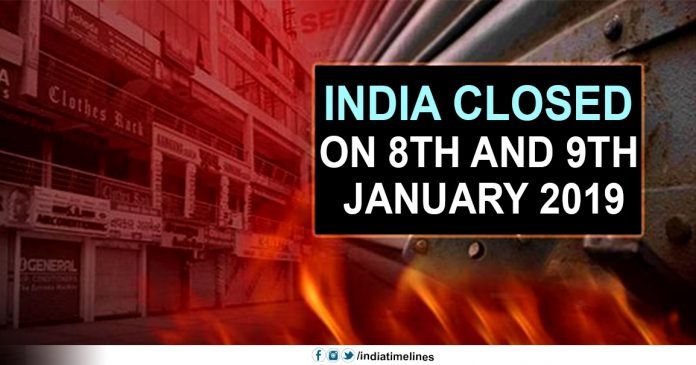 India closed on 8th and 9th January 2019:- The central trade union has announced a strike on 8 and 9 January against the central government. Trade Union says that the policies of the central government are in opposition to the workers. At the same time, the union also says that the central government is running a suppressive policy against traders. The protest call has been called.
India closed on 8th and 9th January 2019
According to Media Reports, Farmers will also Participate in this clause. CPI's Atul Kumar said that on 8th and 9th, the demonstrations will be performed with Rail Roko, Road Roko. He said that the Farmer of the Country along with the common people have also become troubled by the politics of the Central Government. Given this, the farmers have given their support. Farmers will jam road in their Respective areas so that nationwide strike can be successful.
This shutdown can have a major impact on Karnataka, as KSRTC and BMTC have also come forward in the state for the shutdown. On 8th and 9th January, Rickshaw and bus services in Karnataka will now be closed. During this strike in Karnataka, the people of the state can face difficulties in many other activities, including travel, bank.
What is the impact of the shutdown in Karnataka?
Transport: India closed on 8th and 9th January 2019. The employees of the Karnataka State Road Transport Corporation and the Bangalore Metropolitan Transport Corporation will participate in the protest against the bandh, which will cause millions of passengers to face problems. Chandragouda S, a treasurer of KSRTC Staff and Workers Federation, said, "We are against the road safety bill which aims at drivers. He said 'About 1.25 lakh workers will participate in this strike and 26,500 buses will not run. It also includes BMTC services. During the state shutdown, an app-based taxi, airport taxi, express trains, metro trains, and flights will be operated.
Banking Services: In Karnataka, there will be a major impact on banking services in the state of India. All India Bank Employees Union and Bank Employees Federation have announced their participation in the strike.
Insurance, telecommunication, and entertainment: employees of BSNL, LIC, and GIC will not work to give their support to the call off India  SA Chinne Gowda, president of the Karnataka Film Chamber of Commerce, said that if the protest is violent, they will call the screening.
Schools and colleges: Academic institutions will be open in Karnataka during off India. It has been decided to keep educational institutions away from this strike. However, some schools have announced the holiday on January 8 and 9.