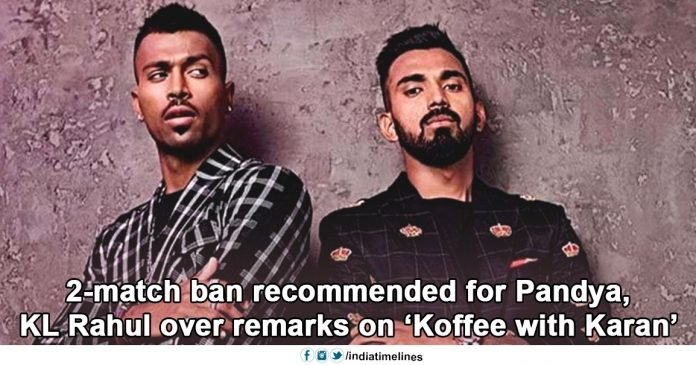 2-match ban recommended for Pandya:- The controversy over the remarks made by Hardik Pandya and K. Rahul Rahul in the coffee breaks is not appealing. The effect is now seen between India and Australia on the one-day series starting on Saturday. Actually, there is the talk of banning two ODIs on both sides. In such a situation, there is confusion in front of captain Virat Kohli and Ravi Shastri that both should be taken in the team or not.
2-match ban recommended for Pandya, KL Rahul over remarks on 'Koffee with Karan'
Both the cricketers' apprehension of action on the 'loose talk' has also increased because Captain Virat Kohli has separated the team from this whole issue. On the other hand, BCCI Treasurer Anirudh Chaudhary has also objected to this and asked the administrative committee whether these cricketers had taken the permission to go to the show.
What is the reason
Vinod Rai, head of the Governing Council (COA), has recommended the ban of two ODIs for the controversial commentary on women during the TV show on Team India's all-rounder Hardik Pandya and Opener KL Rahul. But fellow member Diana Edulji sent the case to BCCI's legal cell. It is not clear whether it will take a banner or not.
What was the case
Hardik Pandya and KL Rahul went to Coffee Coffee with the show. Because of some comments made on women, hearty social media has come to the target of people. Pandya's remarks were termed as anti-women and 'sexist' and it was pronounced all over, which forced the COA to issue a show-cause notice to them on Wednesday. In response, Hardik said that he humbly apologizes and he will not behave like this again. 2-match ban recommended for Pandya, KL Rahul over remarks on 'Koffee with Karan'
However, his apology was rejected by Vinod Rai.  "I do not match hearty reaction and I have recommended two matches for both the players, He said. However, the final decision will be taken when Diana will allow it. India will play three-match ODI series against Australia from tomorrow. "Diana has sought a legal opinion that these two could be banned.Rai said,  Therefore, this decision will be taken only when it will give its permission. As far as I am concerned, such comments were silly and unacceptable.