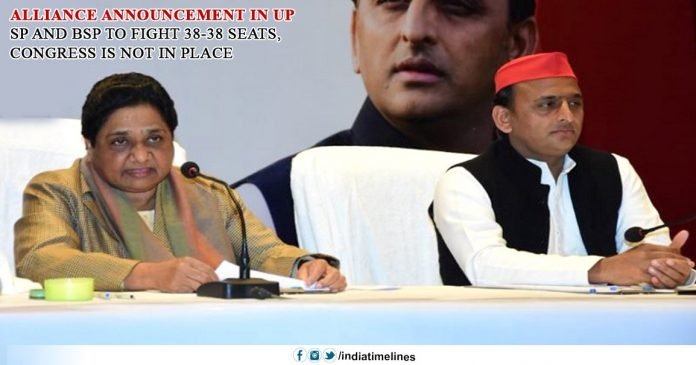 Alliance announcement in UP:- The BSP supremo, during the press conference, stressed at least 2 times during the guest house scandal and said that her party has decided to combine it with the SP after forgetting it for the public interest.
Alliance announcement in UP, SP and BSP to fight 38-38 seats
Samajwadi Party and Bahujan Samaj Party, who were once partners with each other, declared a historic announcement of coming together again after 25 years on Saturday. In a joint press conference with SP President Akhilesh Yadav, BSP chief Mayawati announced this. SP-BSP will contest 38 out of 80 Lok Sabha seats in UP. The Congress has been excluded from the alliance but the Gandhi family's traditional stronghold will not be a coalition candidate in Amethi and Rae Bareli. Mayawati said that the remaining 2 seats have been kept for the other parties. The BSP Supremo said that in the way in 1993 we defeated BJP together, it will beat this time as well. Akhilesh cleverly defended this question, who will be PM contender, who said that UP often gives the prime minister the country, PM will be good if it is from UP.
Mayawati, Akhilesh Yadav declare 38-38 formula to shrink Modi's 56-inch chest: Mayawati said, "It is a press conference that fights the Guru-Chela. (This news will end the nights of Narendra Modi and Amit Shah), "Mayawati said that BJP should be wrested from Uttar Pradesh. Mayawati also made it clear that Congress would not be a part of this coalition. "We have decided not to include the Congress in this coalition because they have ruled the country for a long time and the people have only suffered losses." The BSP was formed to fight against the misrule of Congress. If you come with us then the SP-BSP will not benefit. "," She said
Alliance announcement in UP: SP and BSP to fight 38-38 seats, Congress is not in place
On his behalf, Samajwadi Party chief Akhilesh Yadav thanked Mayawati for respecting the alliance and choosing between each of the 38 seats and said that the prestigious caste is a joint fight against the BJP. Akhilesh Yadav said, "BJP has made Uttar Pradesh a caste, and the BJP has divided the deities from the caste." The divide and rule of the Narendra Modi government will fail in the 2019 elections."
The interesting thing is that both the leaders talked about the 1995 infamous 1995 incident, which broke the SP-BSP coalition in 1995. Later, Akhilesh Yadav also thanked Mayawati for forgetting this incident and coming along with SP. In 1995, the mob of Samajwadi Party workers stayed in a guest house in Lucknow on June 2, 1995, where Mayawati was holding a meeting. According to various news reports, Mayawati's room was subversive and workers returned to racist slaves. This incident was mainly due to the breakdown of the SP-BSP coalition in the UP assembly elections of 1993.