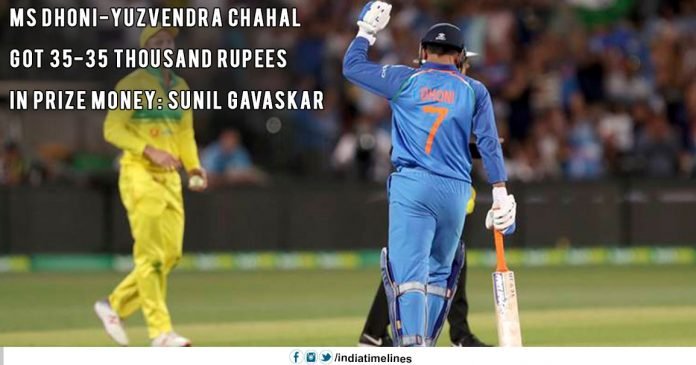 MS Dhoni-Yuzvendra Chahal got 35-35 thousand rupees: Former Indian captain Sunil Gavaskar lamented the host Australia that the board did not announce any cash award after winning the historic series of the Indian team. He said that the players are the shareholders of that revenue, which help in making them. India beat Australia 2-1 in the bilateral ODI series for the first time. 'Man of the Match' Yuzvendra Chahal and 'Man of the Series' Mahendra Singh Dhoni were given 500-500 dollars (about 35-35 thousand rupees) after the match.
MS Dhoni-Yuzvendra Chahal got 35-35 thousand rupees
Players donated this prize money to charity. Former teammate Adam Gilchrist provided only the winning trophy to the team. Gavaskar criticized the hosts that they were not given any cash prize. Gavaskar said to 'Sony Six', 'What is the value of 500 dollars, it is a shame that the team only got a trophy. They (organizers) earn so much money with broadcast rights. Why can not they give good prize money to the players? Eventually, the player gives the amount to the game (sponsors).
Gavaskar said, "Look at the amount to be given in the Wimbledon championship." Let us know that after India's spin-off, the match finisher Mahendra Singh Dhoni and Kedar Jadhav scored an unbeaten 121 for the fourth wicket. By participating in the third and final one-day match on Friday, Australia defeated Australia by seven wickets and clinched the three-match series 2-1. India, who made history by winning the series of Test matches, also won the ODI series, before the T20 International Series was 1-1. Virat Kohli's team did not lose any series in Australia in such a way and it became the first team to achieve this credit.
MS Dhoni-Yuzvendra Chahal got 35-35 thousand rupees, It was Dhoni's 'Man of the Series' who, in the second ODI, finally gave victory to the match by hitting a six and silence his critics. India's dismissal for 23 runs in 48.4 overs, with Man-of-Match leg-spinner Yuswendra Chahal (six for 42 runs) in spin. Having played the role of 'finisher', Dhoni took advantage of the fielding of Australia's fielding and played 70th ODI in the ODIs and with an unbeaten century partnership with Jadhav, India achieved this goal by scoring 234 runs in three overs in 49.2 overs… Dhoni scored an unbeaten 87 not out off 114 balls with the help of six fours, while Jadhav scored 61 not out from seven fours in 57 balls.