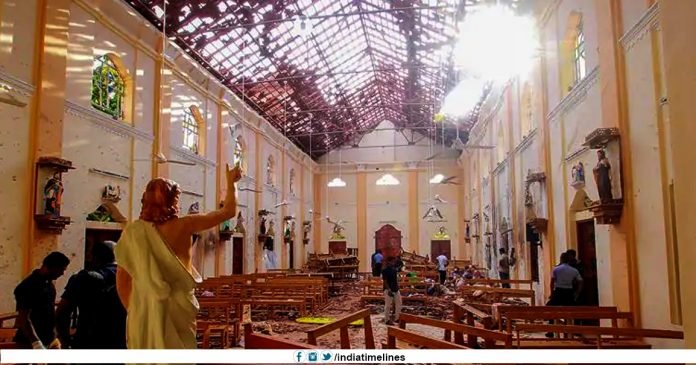 India sent three alerts to Sri Lanka before Easter Sunday Attack- India had given special intelligence to Sri Lankan officials at the beginning of this month that a terrorist attack there was imminent. According to senior intelligence officers who had information about the matter, India sent three alerts to Sri Lanka, which also had a serial blast, which was not known to be unidentified. However, the warning in Sri Lanka was not considered as actionable by the security mechanism. The country for the Sinhala-Tamil new year, Good Friday and Easter were closed from April 12th.
The first warning was on April 4, and it came under investigation by Indian agencies, after which National Investigation Agency (NIA) attacked the video of Maulvi Zahran Bin Hashim, the leader of the National Thowheed Jama'at (NTJ), in December 2018. Islamic State (IS) examining the Coimbatore module.
India sent three alerts to Sri Lanka before Easter Sunday Attack
In the first alert, the agencies told Sri Lanka that besides the churches, the Indian High Commission in Colombo could be a target. Officials said that the second alert was sent one day before the attack and was more specific than the first one. Suicide bombers sent the last warning hours before attacking three churches and four hotels.
Death toll increases to 359
Police said on Wednesday that the number of people killed in the Easter bomb blast has increased to 359. Nationwide search operations are in progress to catch the criminals of the terror attack.
Police spokesman Ruwan Gunasekera said that many people were arrested in connection with the attacks. They said that the number of people who die now is 359.
The Islamic State (IS) terrorist group has taken responsibility for the attacks and identified those suicide bombers who were involved in the attacks. For the latest updates, you can visit www.indiatimelines.com.
LTTE-era restrictions may be withdrawn
There are concerns that the attacks of the LTTE-era can come back from Sunday attacks that were seen as a thing of the past. Sri Lanka was preparing to replace its Anti-Terrorism Act with another law called the Counter-Terrorism Act. Attacks can affect that intent.
The attacks also have an impact on the unsolved politics of the island. Presidential election to be held from December 2018 to President Maithripala Sirisenaand and Prime Minister Ranil Wickremesinghe Government is uncomfortable.