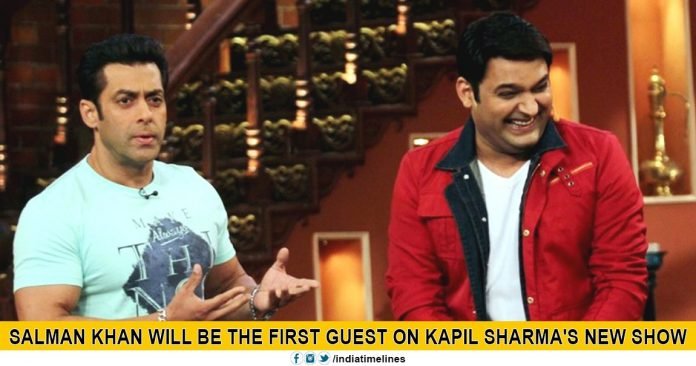 Kapil Sharma New Show: Salman Khan will be the first Guest  – As the date of the launch of Kapil Sharma's show is coming near, Curiosity is also increasing among fans. It was a news last week that before the Kapil show, guests can be superstar shah rukh khan.
Kapil Sharma New Show: Salman Khan will be the first Guest 
This idea was also being done because Shahrukh's film 'Zero' is being released almost on 21 December, While Kapil's show is scheduled to start from December 30. But according to sources, before the Kapil show, the guest is not Shahrukh Khan, But superstar Salman Khan. On Wednesday shooting of Kapil's show started, in which Salman was a special guest with his family, namely papa Salim Khan and Brother Sohail Khan and Arbaaz Khan.
During the shoot, Kiku Sharda, Chandan  Prabhakar, Sumona Chakraborty, Bharti Singh, Krishna Abhishek and Rochelle Rov with Kapil along with them laughed at them, By the way, after being separated from colors channel Kapil , When the last time Soni come out with 'The Kapil Sharma' show, shah rukh became his first guest.
Meanwhile, Kapil Sharma has a busy season in addition to professional commitments. Kapil is married to his longtime girlfriend Gini Chatrath on 12th December at Jalandhar. The pre-wedding festival has already started and Kapil is expected to attend the function after wrapping her work. Kapil and Guinea have planned to welcome a wedding in Mumbai on December 24, a day after their new show will premiere on television.
However, after Kapil's fight with former co-star Sunil Grover last year, the channel hosted a special event for Salman to promote his film Tubal in Sunil Grover. Salman has also signed Sunil Grover for the work-progress film, India.