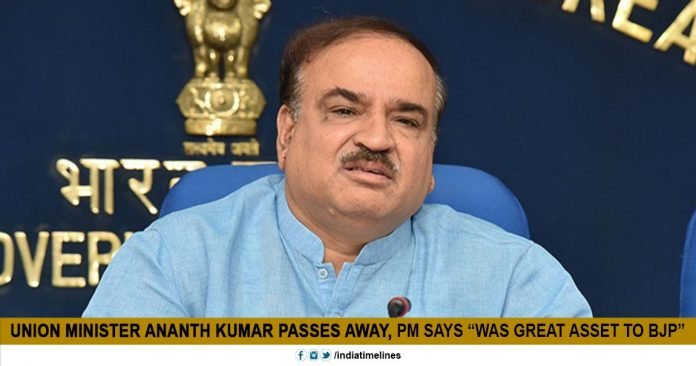 Union Minister Ananth Kumar Passes Away: The RSS's loyal thinkers, the tough leader of the organization, Bangalore's 'most loved' MP and the first person to speak Kannada in the United Nations are those degrees which are associated with Union minister Ananth Kumar. He passed away on Monday in Bangalore. Ananth Kumar, who is always been essential in electoral politics, has been sitting MP from the southern Bengaluru Lok Sabha Constituency for six consecutive times. He always lives close to the central leadership of BJP – whether it is the period of Atal Bihari Vajpayee or LK Advani or now Narendra Modi era. With BJP, the opposition parties have expressed deep condolences on their demise and this is a big loss for the country's politics.
Union Minister Ananth Kumar Passes Away
Born on July 22, 1959 in the middle-class Brahmin family, Narayan Shastri, father of Ananth Kumar, was a railway worker, while Mother Girija N. Shastri was a graduate woman. He did BA from KS Arts College, Karnataka University. After this, he again graduated from JSS Law College in LLB. He started the political life of Akhil Bharatiya Vidyarthi Parishad (ABVP), a student organization of the Sangh. Being a member of ABVP in Karnataka, he became the National Secretary in 1985. Gradually he became one of the effective leaders of the state.
During the Emergency, he had opposed the Indira Gandhi government, on which he was sent to jail and he was released 30 days later. Due to cooperation with the Union, he was picked up fast in politics. Ananth Kumar joined BJP in 1987 and made him the state secretary. He was also the President of the Yuva Morcha. In 1995, he became the national secretary of the party.
This year, he got a Lok Sabha ticket from the southern Bengaluru seat and he was elected MP from this constituency six times in a row. He won this seat in 1996, 1998, 1999, 2004, 2009 and 2014.
He was presently holding the post of Minister of Chemicals and Fertilizers and Parliamentary Affairs. They are credited for applying the facility of neem-coated urea and public medicines center. Being an important member of the BJP's parliamentary board, he was considered the Delhi face of the Karnataka BJP. His political relations with Yeddyurappa were not mellow. On many occasions, the sack came out between the two. They were also accused of excessive interference in Karnataka affairs. Union Minister Ananth Kumar Passes Away. In Ananth Kumar's family, his wife Dr. Tejaswini and her two daughters are Aishwarya and Vijeta.