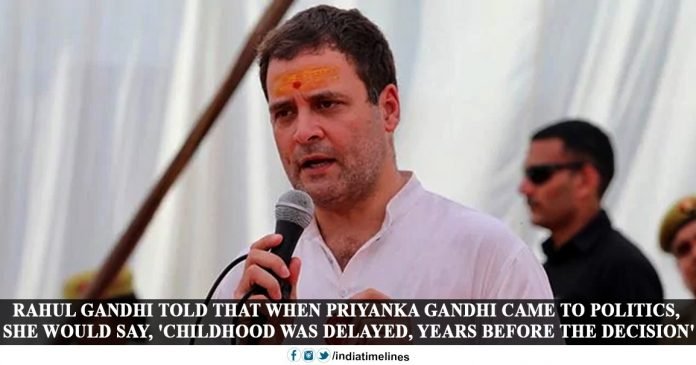 Priyanka Gandhi enters politics: Rahul Gandhi said on the decision of sister Priyanka Gandhi to come to politics, that it is not a decision taken in 10 days. Priyanka's decision to come to politics was years ago, but she came late because of her children. His children were very small and he wanted to stay with them for their care.
Bhubaneswar Prior to the Lok Sabha elections, Congress President Rahul Gandhi has responded to the speculation on Priyanka Gandhi's entry in Congress. In a program in Bhubaneswar on Friday, Rahul said that the decision to bring Priyanka to political politics was taken a long time, but due to being small, she was able to join the Congress late.
Priyanka Gandhi enters politics: 'I am happy my sister will work with Me"
Rahul said that Priyanka and her thinking are fairly well, and on most decisions, both opinions are the same. Priyanka is seen as a Congress trump card and it is said that Rahul took the decision suddenly and senior party leaders did not even know about it.
Rahul said on the question of bringing his politics before the Lok Sabha elections, "It is not right to say that this decision happened 10 days ago. My sister's decision to get into politics was done years ago. He came late because of children because their children were quite small. He said that he wants to stay with them to look after the children. Now he has a child in the university. The second child to is going to the university soon and so he decided to come to active politics.
Priyanka Gandhi enters politics: Ghulam Nabi Azad was also not aware of the decision
It is a piece of news in the media that Rahul has suddenly taken the decision to make Priyanka Gandhi as the General Secretary of Congress. It was not known about Uttar Pradesh in-charge Ghulam Nabi Azad too. Sources say that Congress President Rahul Gandhi raised this high-voltage decision with so much caution that even his special people did not get it. The secrecy placed on every step puts the importance of this judgment.
'Priyanka and my thinking are very similar', Priyanka Gandhi enters politics
Regarding his relationship with his sister, Rahul said that this relationship is of a very special kind. "If you talk to me and my sister on the same issue, then it is a little strange, but our thoughts are often the same, He said. If you call me and then talk to my sister on one and the same issue, then 80% of our time will be our opinion. Referring to the difficulties of childhood, he said that it seems that we were from a big family and we got things easily, so it is not so. Both of us also fought a lot in childhood and grew up in similar circumstances. Because of this, our decisions and the way to think about big issues are the same.