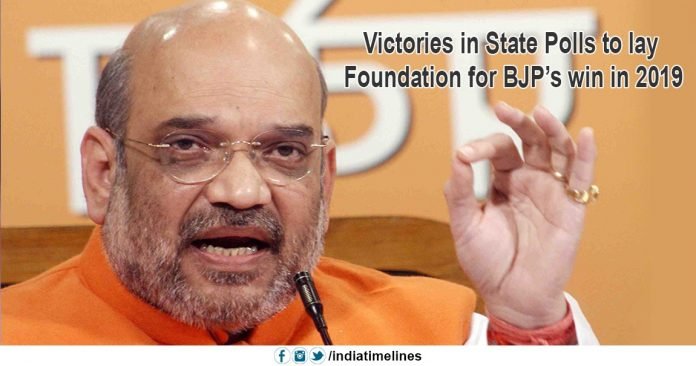 Madhya Pradesh Election News- New Delhi: On Monday, BJP president Amit Shah said that the current assembly elections were not general elections but were "very important" for the country point of view because his party's victory would return to power in the year 2019 and make it "invincible" for a long time.
Madhya Pradesh Election Updates, All You Need to Know
In a video address of party workers in Madhya Pradesh, Shah said that the BJP should have an uninterrupted and long rule in the parliament from Panchayat like the Congress should make India great for more than 30 years and its "Visakhuguru" (World leader). The Modi government had done a lot but five years after the decades of long Congress rule, it was not enough to pull the country out of "mess" and make it a military and an economic superpower.
Assembly elections are being organized in five states and in these three, wages for BJP in Madhya Pradesh, Chhattisgarh and Rajasthan are particularly high – where it is in power. The Bhartiya Janta Party is in power in Chhattisgarh and Madhya Pradesh from 2003 and its rivals think that any serious fall in their performance in three states will vitalize the opposition before the next Lok Sabha elections next year.
Shah asked party workers to work only for victory in Madhya Pradesh, but to win a big victory that will cool the spinning rivalry of the BJP rivals on the counting of votes.  "The Elections that will be going to held in 2018 are not general. These elections play a vital role for the nation as they will be followed by Lok Sabha elections in 2019." He said.
BJP was in power twice in the centre- first under Atal Bihari Vajpayee and now under Modi. Shah stated the country will go ahead by choosing the current dispute again. "After the time of independence, in the parliament, the Congress-ruled for almost 30 to 35 years after Panchayat, so BJP should have a common nation in the country so that India has a great nation and an objective to make Mother India Vishwaguru."  Said by Amit Shah.