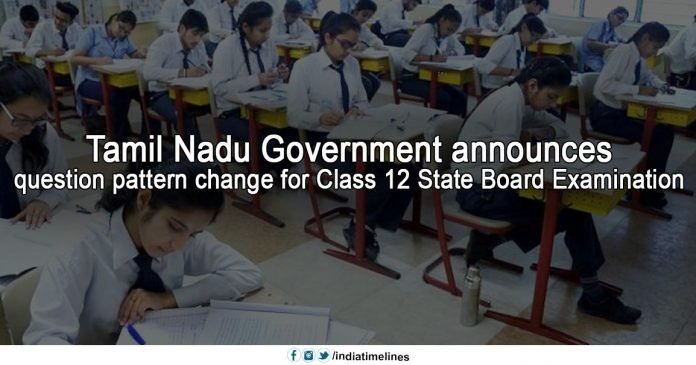 Tamil Nadu 12th board exam 2019 question pattern changed:- The Tamil Nadu government announced the change in the question pattern of the Class 12 State Board Examination. Officials issued a notice.  He has announced some changes in the examination pattern for the upcoming class 12 state board examinations by the Tamil Nadu government. According to the new examination pattern issued by the authorities, multiple choice questions from Part A of the question paper will be replaced with filling blank space, assertions correspond to logic, following and some similar types of questions.
Tamil Nadu 12th board exam 2019 question pattern changed
All questions in Part A of the examination paper will be 1 point. Tamil Nadu 12th board exam 2019 question pattern changed According to the official notification issued, the marks per head were reduced from 200 to 100. Also, the exam duration has been reduced by 30 minutes.
However, there was no mention of any change in the examination pattern in the Model Question Paper issued by the State Council for Education Research and Training (SCERT) for Class 12 State Board Examination.
Scheduled Class 12 State Board Examinations, Tamilnadu
The board examination of Tamil Nadu Class XII is scheduled to be held from March 1, 2019.
The examination will be organized by the Tamil Nadu State Board of School Education.
The State Board organizes both the 10th and 12th examinations to assess the students on their academic performance.
The students' performance in these examinations evaluates their qualifications in various universities, colleges, and schools throughout the state.
About Tamil Nadu Board
The Tamil Nadu Board of Secondary Education was established in 1910, and later, after Independence, under the Department of Education of Tamil Nadu Government, the government examinations were conducted as separate directorates. Tamil Nadu administers the State Board of School Examination Secondary School Examination and evaluates the academic progress of students through class 10th board examination and class 12th board examinations. The score is considered to be a valid qualification for admission to universities and schools across the state.