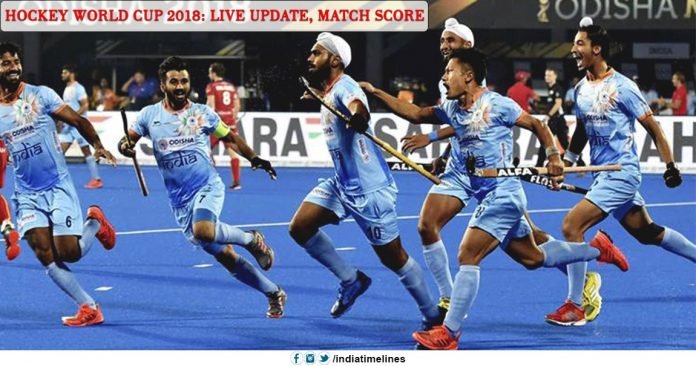 Hockey World Cup 2018:- The Indian team will not forget the pool of 2016 Rio Olympics, in which Canada played the draw while backing back. In addition, in London last year, Hockey World League semi-finals Canada defeated India 3-2 to finish fifth.
India will play Canada in their final pool match on Saturday, while Belgium will face South Africa. The top teams from all four pools will go straight to the quarter-finals, while the teams, second and third, will play cross-over with each other to enter the last eight.
Hockey World Cup 2018: After a break, India look for breakthrough
The hosts will be defeating Canada on Saturday in the last match of Pool C, with the intent to make a place in the quarterfinals of the men's Hockey World Cup. The world's 5th team is at the top with 4 points in India Pool-C. There are also 4 points from the Olympic silver medalist Belgium, but India's goal is better. India's goal is an average plus of 5, while Belgium is plus 1.
Canada and South Africa have 1-1 points in 2 matches, but Canada is at number three on the basis of better goal averages. India defeated South Africa 5-0 in the first match and played 2-2 draws from Belgium. Canada beat Belgium 2-1, and Canada played 1-1 draws from South Africa. The doors are open for all the teams still in the pool, so the host team would not have won any wins and would like to reach the final 8 straight away.
India has played 5 matches since 2013 against Canada, 3 won, one beat and one draw. In the first match, Canada had beaten Nalos to win Belgium. Indian forward row Mandeep Singh, Simranjeet Singh, Akashdeep Singh and Lalit Upadhyay will be under pressure to do well.
Second and third place teams will play crossover with the second third teams of the second pool, which will determine the remaining 4 places of the quarter final. Looking at the record and form, India's batting looks huge, but on Thursday, the world's number 20 team, France defeated Olympic champion Argentina in pool A, so anything is possible in modern hockey.