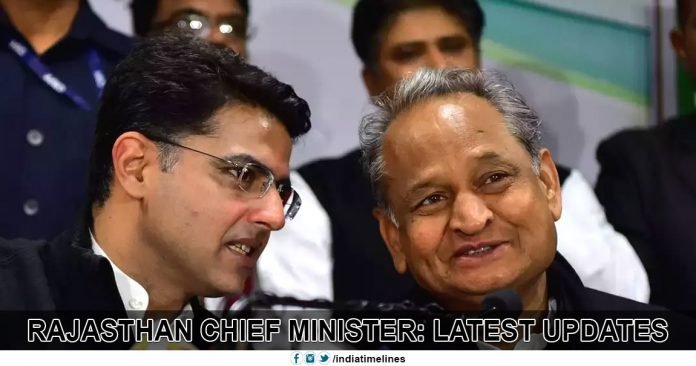 Rajasthan Chief Minister:- Even votes in the five States, including Rajasthan, were being Counted for Votes for assembly election on Tuesday, the state Congress leader Sachin Pilot as the new Chief Minister of the state.
The Congress is seen to be the largest party in the state but is difficult to say anything about Vasundhara Raje  Scindia, who will be the next Chief Minister of the state. After the election results, if the Congress gets an opportunity to form the government, Both Ashik Gehlot and Sachin Pilot have worked hard for the return of the Congress In such a situation, the claim on both the posts of chief Minister is quite strong.
Rajasthan Chief Minister: Rahul Gandhi to decide on CM's Name
The situation is not clear about the name of the chief minister in the party. Both leader Gahlot and Pilot, who are considered to be strong contenders for CM's chair, have also left the decision on Rahul Gandhi. Both leaders have said that after all the results have come, party MLAs and Rahul will Decide CM's name on Wednesday.
Majority of victory will determine next Chief Minister
Sachin Pilot has worked hard to bring the party back to power. Expressing his trust before the elections, the party's national president, Rahul Gandhi, handed him the command of the state Congress. In such a situation, his claim on CM's chair is quite strong. At the same time, Ashok Gehlot is a senior and influential leader of the Rajasthan Congress. It is not possible for the Congress to ignite them. In this case, the margin of party victory can only decide who will be the next Chief Minister of Rajasthan?
Vasundhara Raje resigned from the post of Chief Minister
Jaipur, December 11, Rajasthan Chief Minister  Vasundhara Raje Resigned from the post on Tuesday night following the results of assembly elections. She Submitted his resignation to Governor Kalyan Singh here. The Raj Bhawan Spokesperson said, "It is notable that in the assembly elections, the ruling BJP had to face defeat at the hands of the Congress.