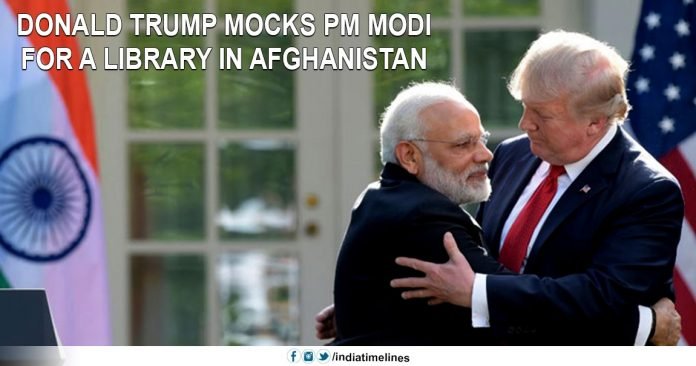 Donald Trump mocks PM Modi for the library in Afghanistan:- US President Donald Trump has tweeted PM Narendra Modi on Wednesday about India's plans to fund a library in Afghanistan. The US president also said that when he met PM Modi, PM Modi was telling me consistently that he had created a library in Afghanistan. He knew it was like we had spent 5 hours together. And we were expecting that I should say this. 'Oh, thanks for the library. I do not know who is using it in Afghanistan? '
Donald Trump mocks PM Modi for the library in Afghanistan
New Delhi: US President Donald Trump tense PM Narendra Modi on Wednesday for India to fund a library in Afghanistan. Trump has made fun of PM Modi in Afghanistan for funding a library and suggested that there is no use here. In the first cabinet meeting of the New Year, US President Donald Trump referred to the funding of a library in Afghanistan by PM Modi and said that I am surprised who will use it in that country.
However, it is not clear whether Trump was referring to which project. But India has provided more than $ 3 billion in aid from Afghanistan since 2001. Because US-led security forces overthrew the Taliban's extremist power after the September 11, 2001 attacks. Under these projects, a high school will be built in Kabul and one thousand Afghan children will be given a scholarship in India every year.
India has always shown enthusiasm about the American action in Afghanistan because anti-India terrorism was growing during the Taliban regime. However, experts say that India's growing role in this matter has alerted Pakistan because Pakistan's ISI was in touch with the Taliban. Donald Trump mocks PM Modi for the library in Afghanistan
While inaugurating the Afghan parliament in 2015, PM Modi promised to give modern education to the youth there and increase professional skills. Let us know that after the American campaign in Afghanistan, India has been one of the most exciting countries. Last month, Trump decided to recall 2,000 American soldiers deployed in Syria in Afghanistan.
Trump said in response to a question that he wants India to join in Afghanistan. Asked whether India is going to play a security role in Afghanistan, Trump said, "We will do something that is right. We are talking to the Taliban. We are talking to different people. "He said, "India is there. Russia is there. Russia used to be the Soviet Union. Afghanistan made him Russia because he became bankrupt while fighting in Afghanistan. So you look at other countries. Pakistan is there. They should fight. Russia should fight there. "