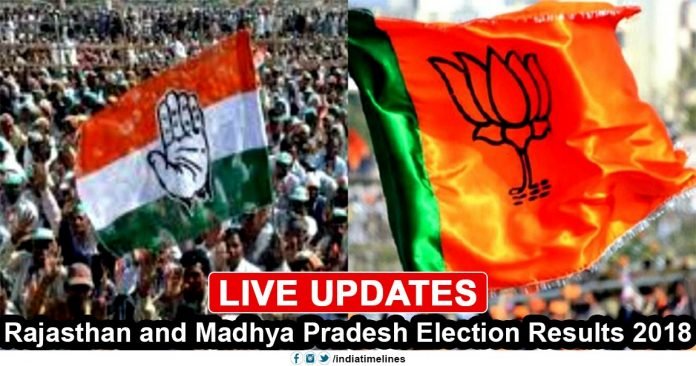 Election Results 2018: After the state assembly elections, now everyone's is on the outcomes of December 11. Earlier, many agencies have released the results of exits poll. In details, know who has predicted which party will form the government. Now, Rajasthan and Madhya Pradesh Election Results 2018 is out, you can check it at below section.
Rajasthan and Madhya Pradesh Election Results 2018: Latest Updates
Will Shivraj save MP in power?
In Madhya Pradesh, Tough Fight between Congress and BJP is still continued, Congress is leading with 113 Seat, on the other site BJP has 107 seats. Right now it is very difficult to say anything.
The times Now-BJP exit in the CNX exits poll is huge. According to this, in Madhya Pradesh BJP is going to form the government back. Exit poll claims that BJP gets 126 seats, Congress 89, BSP 9 and others 9 seats. However, according to India TODAY-AX My India, there is a thorn in the Congress and BJP in the Congress in the MP. Here, BJP can get 111 seats, Congress  113, BSP 2 and others 4 seats. Check Chhattisgarh and Mizoram Election Results
Congress a clear majority in the MP, According to this, Congress can get 125 seats, BJP 103 seats. According to News 24-PACE, there is the one in the race between BJP and Congress and Congress can win 115 seats while BJP can win 110 seats.
Rajasthan Assembly Election 2018, BJP shocks Rajasthan?
In Rajasthan and Chhattisgarh, Congress Workers celebrated their good performance in assembly election 2018. Congress is leading with 101 seats in Rajasthan. According to elections to exit the Times Now-CNX, Rajasthan may be a major setback for the BJP. Polling believes that the Congress party can get 105 seats this time, while the ruling BJP is expected to get 85 seats. At present, BJP has 160 seats in the assembly, while Congress is working as a major opposition party with 25 legislators.
Even in the exit polls, Congress government is formed. The BJP is expected to get 63 seats in the elections, while the Congress can win a majority by winning 130 seats. If the C-Voting Exit Poll believes that Congress is winning a tremendous victory. Here Congress can get 137 seats, BJP 60 and others 2 seats.