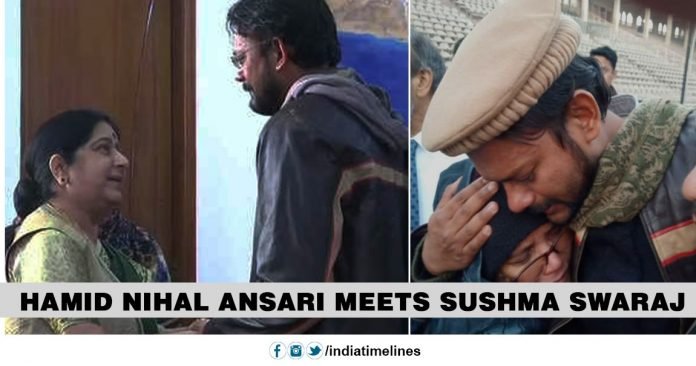 Hamid Nihal Ansari meets Sushma Swaraj: Hamid and his family looked very emotional during the meeting with Foreign Minister Sushma Swaraj. Hamid's Mother said, 'My India is great, my mother is great, everything is done by Madam.' 
Read Highlights, Hamid Nihal Ansari meets Sushma Swaraj
Arrested in 2012; Sentenced in 2015
He thanked his ministry, Swaraj, for taking up the matter with Islamabad.
This is a new morning for us: Ansari's father
Hamid Ahmad Ansari, who returned to India after spending six years in Pakistani Jail, met Foreign Minister Sushma Swaraj. Hamid has returned to India on Tuesday evening. The union minister has made an important contribution in his return, so on Wednesday morning, when Hamid met Sushma with the family, he looked very emotional. During this time, Hamid's mother said, ' My India is great, my mother is great, all is done by Madam.'
Hamid's family had earlier met Sushma Swaraj for her return. Then he had said that the self-confidence that took place in the meeting with Sushma Swaraj, she had hoped that her son would return home. On Wednesday morning, Hamid met Sushma Swaraj's office and met him, during which Sushma Swaraj hugged him.
Hamid became very emotional. He thanked the Union Minister During this time his family members were also present. Explain that after six years in Peshawar jail, Hamid returned to his native India on Tuesday. Hamid's mother Fauzia says that he went with a good motive but then suddenly disappeared.
It is being told that after a chat with a Pashtun girl, Mohabbat had sent Hamid Ahmed Ansari, a resident of Versova, in Mumbai to Pakistan without visa. After this, he was sent to jail by running a case of espionage. Son Hamid arrived at the rate of all the politicians who came to the family for the return of the family.
Sushma's help
Meanwhile, the matter reached the Union Foreign Minister Sushma Swaraj, who raised this issue in front of Pakistan. After many attempts, many people from both the countries together proved that Hamid has been admitted illegally in Pakistan but he is not a detective. Officers of Pakistan Rangers handed Hamid to BSF officials on Tuesday evening at 5:30 p.m.