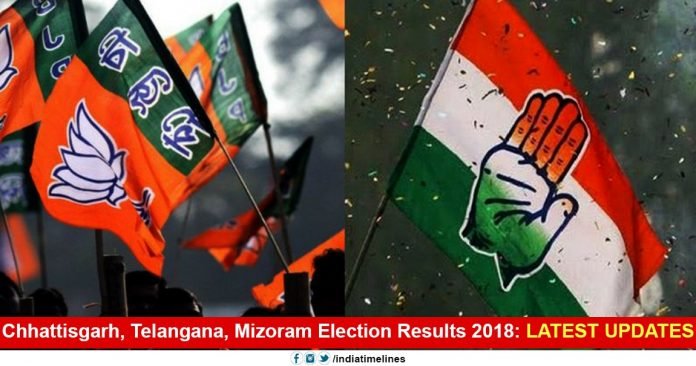 ELECTION LIVE UPDATE – Chhattisgarh BJP is in Trouble! According to exit polls, in Chhattisgarh, BJP can get 46 seats, Congress 35, BSP 7 seats, as well as according to the elections to come out of India Today-Axis My India, Chhattisgarh may be a shock for the ruling BJP. Here Congress can get 60 and BJP 26 seats. Also, C-voter claims that Congress can get 46 seats, BJP 39 and BSP 5 seats.
In Chhattisgarh, Congress has indicated 50 seats, BJP 36 and Others 4 seats in the account. While Congress leading in 59 seats in the 90-seat Chhattisgarh Assembly.
WHAT WILL HAPPEN IN TELANGANA, ELECTION LIVE UPDATE
The issue is that all the exit polls in Telangana are telling the victory of Telangana Rashtra Samithi (TRS) is the only government in the state and Chandrasekhar Rao is the Chief Minister. According to the exit poll, TRS is going to form government again in Telangana. The survey claims that in the state, TRS can get 66 seats, BJP 7 seats, and others 9 seats.
Suppose TRS 85, Congress 27, BJP 2 and others can win 5 seats. According to the public, TRS can get  57 seats, Congress 45, AIMIM 6, BJP 5 seats. In Real-time TRS get 85 seats, Congress 17, BJP 1, TDP 2 and others  8 seats.
Check Rajasthan & Madhya Pradesh Election Results 2018
What is called Poles in Mizoram?
According to the C-Voter Exit Poll, Mizo National Front (MNF) in Mizoram can get 18, Congress 16 and others can get 6 seats. There is a Congress government in the state right now.  In real time, MNF gets 27 seats, INC 8 seats, BJP 1 seats, and others 4 seats.
When, where happened polling
Voting for Telangana's 119 seats today Voting was held on November 28 for the Mizoram's 40 seats; Chhattisgarh's 90 seats were voted in two phases. In the first phase, voting was held in 18 assembly constituencies on November 18 and 72 in 72 constituencies in the second phase on November 20.