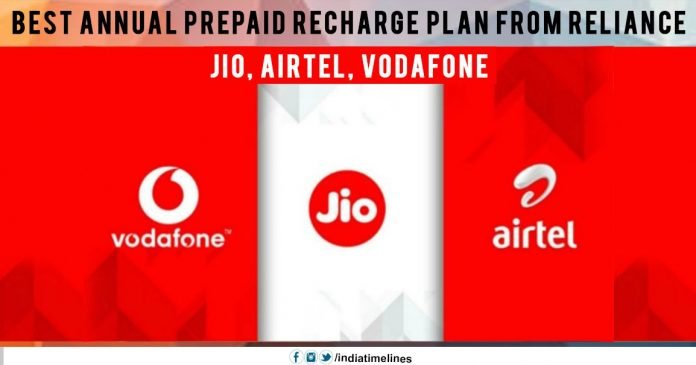 Best annual prepaid recharge plan- New Delhi: Airtel, Vodafone, Reliance Jio and BSNL are the 4 largest telecom operators that offer users their services in India. All these operators have this target so that they give cheap plans to the users. In the recent past, there is a war between plans, where there is an unlimited call, there is no unlimited data. So let's look at the Best Prepaid Annual Recharge Plans.
Best annual prepaid recharge plan of Rs 1699 to Reliance Jio
Here users get 1.5 GB of data per day, with unlimited calls and SMS. The validity of the plan is 365 days. Users get total 547.5 GB of data in the plan. Once the DL FUP is over, the speed of the data will be 64 kbps. On the go, free apps like Geo TV, Geo Money are available. For these, users have to pay Rs 1798 separately but they are free.
Best annual prepaid recharge plan Vodafone plans Rs 1499
In this plan, users get 1 GB data per day, while there is 100 SMS facility with unlimited calls. The validity of the plan is 365 days. Recently, the company has removed the FUP limit from these plans.
BSNL's Rs 1699 plan
Like Reliance Jio, BSNL is offering Diwali Explosion Plan of Rs. 1699. Unlimited local calls and 100 SMS are available here. Users get 2 GB of data every day. Once it's finished, the user's speed will be 80 kbps.
Best annual prepaid recharge plan Airtel Rs 509 plan
The validity of this plan is 90 days. With the Unlimited Calling in the Plan, we get 1.4 GB data per day. 100 SMS also there Users like Airtel TV, Epic Music like Wink Music are available for free.
Best annual prepaid recharge plan from Reliance Jio, Airtel, Vodafone and BSNL
At one time, the use of mobile phones was quite expensive. There was money to carry the phone along with calling. Slowly change the time. Many companies came in the market. Money stopped lifting the phone first. Reduced call rates After that unlimited calling was facilitated. Earlier, a mobile subscriber used to spend 512 MB of data in the entire month, today they are getting data up to 2 GB per day. Today, the companies are offering more than one offer to customers. Mobile users have been the most successful in this race. They are getting more and more services in less money.