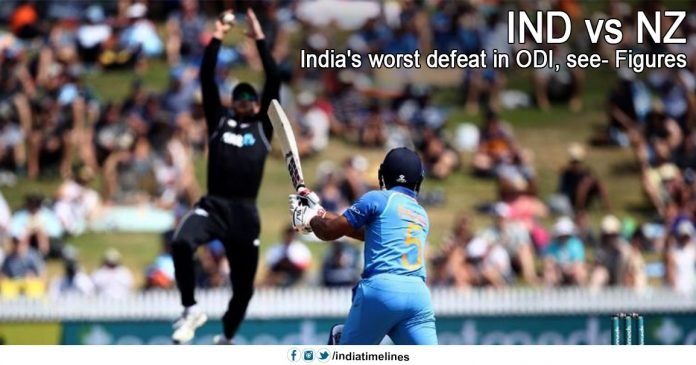 India's worst defeat in ODI:- This is the biggest defeat in ODI's on the basis if the Remaining balls of India. Earlier, in Dambulla, India had to suffer 209 balls against Srilanka in the year 2010.
India's worst defeat in ODI | New Delhi
India suffered a 14-wicket loss in the fourth ODI of the series against New Zealand at Hamilton. In front of the bowlers of the hosts, Team India's batting looked bleak and the whole team was all out for 92 runs in 30.5 overs. After that, New Zealand won the match by scoring 93 in 2 balls in 14.4 overs thanks to the innings of Ross Taylor (37 *) and Henry Nicholls (30 *).
Worst defeat on the basis of the remaining balls
New Zealand won the biggest win against India in terms of the remaining balls in ODIs. In this match, 212 balls in New Zealand won by 8 wickets. It is also the biggest defeat in ODIs on the basis of the remaining balls of India. Earlier, in Dambulla, India defeated Sri Lanka by 209 balls in 2010. Sri Lanka defeated India by 189 balls with 9 wickets in Hambantota. India lost the match against Sri Lanka in Dharamsala by 176 runs in 2017.
The team's performance was poor in this one-dayer and it made the second lowest score in ODIs against New Zealand. Overall is the seventh lowest score in India in this ODI. India's total innings against New Zealand in the year 2010 was reduced to 88 runs in Dambulla. India's lowest score in ODI is 54 runs, which he made against Sri Lanka in Sharjah on 29 October 2000.
India's worst defeat in ODI, Trent Boult equals Headley
29-year-old pace bowler Trent Boult has taken 5 wickets for the fifth time in ODI career. With this, he equals the record of former New Zealand great Richards Headley. Boult made Rohit, Dhawan, Shubman Gill, Kedar Jadhav(1) and Hardik Pandya victim in this match. Paceman Colin de Grandhomme took 3 for 26, including three wickets.