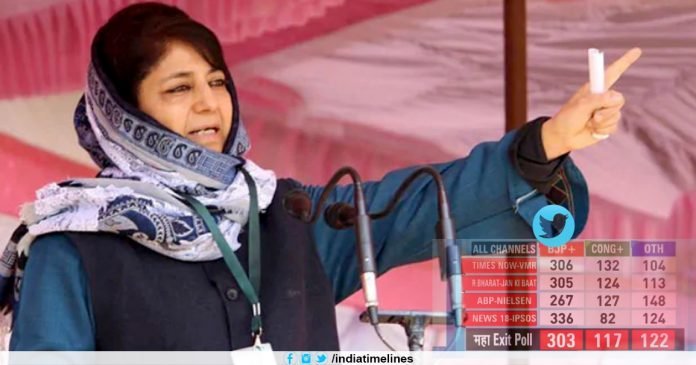 Mehbooba Mufti Tweet About Exit Poll Results: Elections in the seven phases of the Lok Sabha Elections 2019 ended. On May 23, the results of the Lok Sabha elections will come out in front of everyone. Several exit polls were issued on Sundays before the results came out, most of the exit polls showed the BJP government getting the majority. After the exit polls figures, the opposition of most opposition parties appeared in the social media. On the anchors on TV channels, former Jammu and Kashmir Chief Minister and PDP chief Mehbooba Mufti tweeted by tweeting.
Mehbooba Mufti Tweet About Exit Poll Results
Mehbooba Mufti tweeted on her Twitter account, "After the exit polls, TV anchors are not able to hide their happiness as if the children were left in the candy store. Your heart is happy, as the buzz for the sake of the bahar. Through this tweet, Mehbooba Mufti not only tampered the anchors of TV channels but also wrapped the NDA government.
Let us tell you that according to the  Major Exit Poll, the NDA is expected to get 308 seats under the leadership of the BJP, according to the channels which have presented 542 seats. 117 and 117 others are expected to get 117 seats.
At the same time, Shashi Tharoor of Congress claimed that exit polls are wrong. He cited Australia's election to prove his point where many exit polls proved wrong. Aam Aadmi Party (AAP) said that exit polls in the past have proved to be wrong and The promotion of TV scientists who won BJP's victory will fail. National Conference (NC) leader Omar Abdullah, however, said that all the exit polls cannot be wrong. "Every exit poll result cannot be wrong always, Omar tweeted. Time to turn off the TV and use to stop social media and wait for the result on May 23.". For the Latest updates, you can visit www.indiatimelines.com.
BJP spokesman Bijay Sonkar Shastri said that the party will do better than the exit polls and it will win 300 seats on its own. He said that the NDA will get 350 seats.