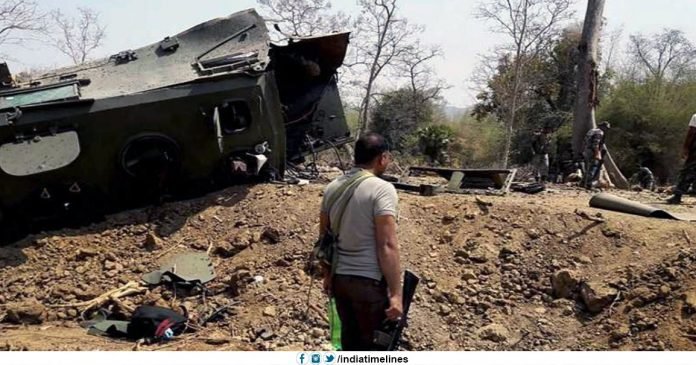 Gadchiroli Naxal attack today LIVE updates: At least 15 security personnel were killed in an IED blast in Gadchiroli in Maharashtra on Wednesday noon. Hours after the incident, the Maoists set fire to about 30 vehicles in the area. DIG (Gadchiroli range) Ankush Shinde told, "The Quick Response Team (QRT) was from Kurkheda Police Station. He was going to Purada village in a private vehicle. The blast took place around 12.30 pm near a drain called Ladri, in which 15 of our soldiers were martyred. "
Gadchiroli Naxal attack today LIVE updates, 15 security personnel killed in IED blast
When asked if QRT was reaching the arson site, Shinde said, "We do not go to such places because it is always full of the danger of ambush. I have to take a ground report about where the leadership of QRT was. " Incidentally, Kurkheda area has long been free of Maoist violence. In the initial pictures of the site show, the remains of a car appear after the explosion.
According to the reports, fire exchanges between security personnel and Maoists is underway at the blast site in Gadchiroli. "We condemn the abominable attack on our security personnel in Gadchiroli, Maharashtra. I salute all the brave personnel. Their sacrifices will never be forgotten. My thoughts and solidarity are with mournful families. The criminals of such violence will not be spared, Prime Minister Narendra Modi tweeted.
In the incident of late night fire, the Maoists set fire to vehicles used for road work in Kurkheda tahsil of Gadchiroli district. Additional Superintendent of Police Hari Balaji told, "There are separate reports about the number of Naxalites involved in the act. But there is information that a group comprising between 40 to 100 Naxals had set fire to 29 vehicles, including tar plants, trailers, and tippers, in Dadapur village. For more info, you can visit www.indiatimelines.com.
Earlier in the day, Maoists set fire to at least 25 vehicles of a road construction company in Gadchiroli district, police officers said. Targeted vehicles were engaged in construction work for the Purana-Yerkad Sector of NH 136 near Dadapur village.