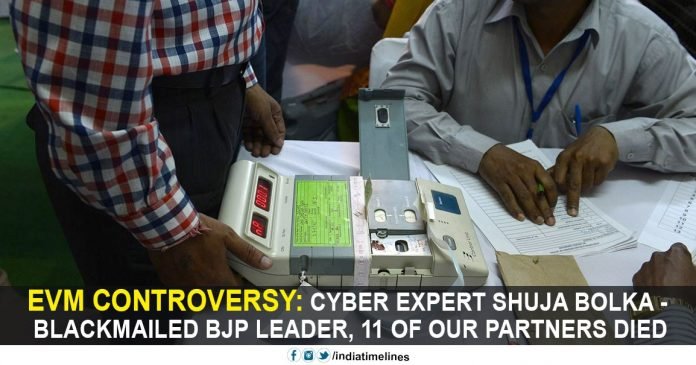 EVM Controversy: EC directs to register FIR against Shuja living in the US, Shuja's claim – riots took place in Hyderabad after the death of his companions, so went to America
In the election, the case of hacking of EVMs is holding fast. Power and opposition parties are saying that they did not contact anyone for EVM hacking. Meanwhile, more claims have been made on the EVM hacking of Indian cyber expert Syed Shuja who lives in the US. Shuja said – In Hyderabad, my team met a BJP leader. We blackmailed him. After that our 11 partners were killed. On the other hand, the Election Commission has written a letter to the Delhi Police Deputy Commissioner on Tuesday, saying that Shuja has conspired to spread rumors with the intention of dissolving the peace. An FIR should be registered against him and immediate investigation should be initiated.
EVM Controversy: ' Munde himself wanted to expose his government'
"BJP leader Gopinath Munde had asked me whether I can design an EVM design that cannot be hacked. Then I did not know who Munde was. Munde himself was about to expose his government. So he was murdered. He knew that his government was formed due to rigging in the EVM. Apart from BJP for EVM hacking, 12 parties including Congress, SP, BSP, Aam Aadmi Party had approached me, Shuja said.
'Life in India was threatened, partners in Hyderabad killed in America;
Shuja said that an Indian Journalist came to Him in the US. The Journalist had said that he would expose the whole matter, but he did not play any story, this Journalist cames on TV daily with the words ' How dare me'. Not only this, but Shuja also added to the death of Journalist Gauri Lankesh to the EVM Controversy Case. He said that Gauri Lankesh wanted to do a story on this matter, but before that he was murdered.
EVM Controversy: Gauri wanted to do Lankesh Story, was killed
Shuja claims – his team went to meet a BJP leader in Hyderabad in 2014. Team members blackmailed that leader However, he was just joking. Shuja said, 'In Hyderabad, my colleagues and I were shot. My 11 partners were killed in this. I was injured. This incident belongs to the suburbs of Hyderabad. The next day three people were killed in the riots in Kishanbagh in Hyderabad. I was in danger of knowing, so America went. '
Question-answer from Shuja: EVM controversy
Question: Do you have any proof of EVM hacking?
Shuja: 12 political parties contacted my team. These include SP-BSP, Congress, Aam Aadmi Party, and regional parties. I told them that Hacking of EVMs is possible.
Question: How to leave India and reach America?
Shuja: I went to Delhi after Hyderabad From there to the United States.
Question: How did America get refuge?
Shuja: I presented much evidence for asylum in America. US authorities shelter after the investigation
Question: Did America's Authority Say Something?
Shuja: I had less time. I did not want to go through the difficulties but told some people in America.
Question: Who else was there in your team?
Shuja: In my team, there were Jazz, Ejaz, Hamza, Prakash, Srinath, Bossi, Keshav. They were killed.