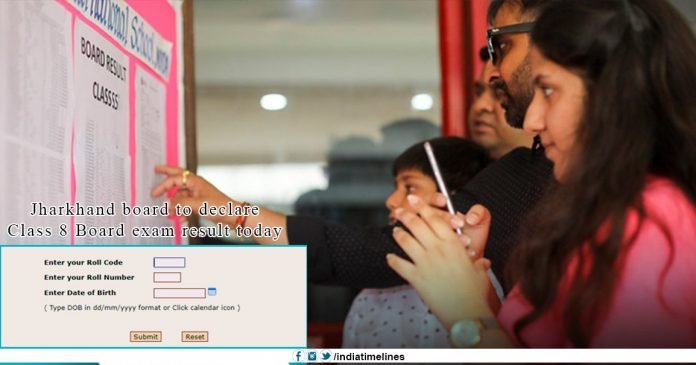 Jharkhand Class 8th Result 2019: Jharkhand Board has declared 8 the exam results today. Let us tell you that in the first few days Jharkhand Board had declared the result of 9th standard and now the students are waiting for the result of the 8th Board. The Board has also issued guidelines for the results. Students are able to see the JAC Class 8 Board Result 2019 board official website jac.nic.in or you can download Jharkhand Class 8th Result 2019 at below. JAC Secretary Shri Maheep Kumar Singh said that on Tuesday morning, at 11 o'clock, the results of JAC VIII will be released online.
Jharkhand Class 8th Result 2019, Download here
It is known that more than 5.5 lakh children have passed the examination in the eighth examination. Such reports were that the Board would announce the results of 8th April on 11th April, but the board released the results of 9th Class on that day. More than 5.5 lakh students took part in Jharkhand's 8th examination. The examinations were conducted in the month of February.
Click here to Download: JAC Class 8th Result 2019
JAC 8th Result 2019, were to Check?
The Academic Council of Jharkhand has issued the results of the 8th Board on the official website. Student can try their luck at any of the following two websites-ac.nic.in, and jac.jharkhand.gov.in. Students can also go directly to jacresultonline.com to check their results.
Other personal results hosting websites can also provide the facility to examine the JAC 8th result. We recommend that students should only be on official websites to see their results.
How to Download Jharkhand Class 8th Result 2019 
Step one: Visit the official JAC website.
Step two: Click the result link on the home page.
Step three: Enter your roll code and roll number. Make sure you enter both details correctly.
Step Four: Submit and view your results.
After issuing results for Jharkhand 8th Board Examination, the Council will prepare Jharkhand for 12th and Jharkhand 10th Board Examination. For the latest updates, you can visit www.indiatimelines.com.
Follow these Steps Jharkhand Class 8th Result 2019, SMS Wise
JAC results for the 8th grade can be checked through different modes. You can choose the option of the following mode to check your JAC Class 8 result:
SMS:-You can check your JAC results via SMS. You can send your JAC points as follows:
Type JHA8<Roll code+Roll number>and send to 567650
For example, JHA8 110080073
other apps:- You can also check the JAC result through various other apps available at the Google Play Store. To get JAC points through an application, you must pre-register your roll number.