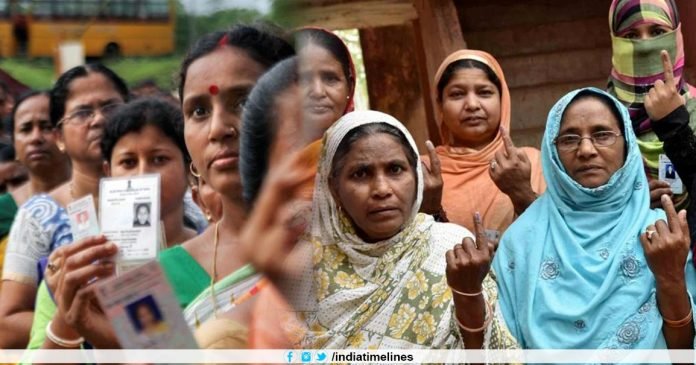 In Phase 1 of 2019 Lok Sabha polls- New Delhi: in the First Phase of elections for the Lok Sabha elections, long queues of voters were sent at many places, but according to the Election Commission, voting recorded in the 2014 Lok Sabha election  was held on Thursday with voting of more than 20 states happened, although initially indicating a fall in voting likely to improve because the initial estimates were only till 5 pm.
Tripura and West Bengal are at the top of the chart at 81.8% and 80%, respectively. Polling was continuing till late night in Andhra Pradesh.
In Phase 1 of 2019 Lok Sabha polls, turnout trend same as in 2014
Energetic Voting was recorded in Jammu and Kashmir- 72% in Jammu and 35 percent in terrorism affected Baramulla, which was not less than 38.5% seen in 2014.
Now Voting has been completed in 10 states and Union territories. Also, assembly elections were held in Andhra Pradesh and Arunachal Pradesh  Pradesh on Thursday, while the First phase was in Odisha.
Given that was the first Lok Sabha election where VVPATs were used on a 100% basis, the EC reported 0.7% of EVM Ballot Unit, 0.6% of EVM control units and 1.7% VVPATs replacement. Cash seizure till date is more than double of Rs 607 crores for the 2014 election.
In Phase 1 of 2019 Lok Sabha polls, There were some incidents of Violence in Chhattisgarh and polling party in Maharashtra's Maoist-hit Gadchiroli was attacked. There was an IED blast in Narayanpur in Chhattisgarh. Although there was information about the casualties of anyone.
There are clashes between party workers and Supporters in Andhra Pradesh. Interestingly, there were about 15 cases in Andhra Pradesh, six in Arunachal Pradesh, two in Manipur and EVM Bihar and West Bengal in bad weather.
In Andhra Pradesh, Guntakal assembly consistency's Janasena candidate  Madhusudan Gupta did not work, intervened in the EVM, which led to his arrest.
The Election Commission said that the report to damage EVMs was done in earlier elections, he told reporters that legal action will be taken against those involved in such acts.
Although there were complaints of EVMs and glitch, especially in Andhra Pradesh, CM N Chandrababu Naidu complained to the Election Commission, the Commission said that the figures of the replacement of EVM and VVPAT showed improvement in the last elections. The Election Commission said that a polling officer posted in Tirup in Arunachal Pradesh died of heart attack. For the latest news, you can visit www.indiatimelines.com.
The Election Commission touched a figure of Rs 2,426 crore on Thursday, which was twice the overall figure of the 2014 Lok Sabha elections. Recovered cash worth Rs 607 crores (equivalent to 303 crores seized in 2014), alcohol worth Rs 198 crores, drugs worth Rs 1,091 crores, gold worth Rs 486 crores and other free items worth Rs 48 crores are included.
Since complaints about voters were received from some constituencies, who could not find their name in the roll after reaching the polling station, the Election Commission said that 'GoVerify' had started the campaign to avoid such incidents.