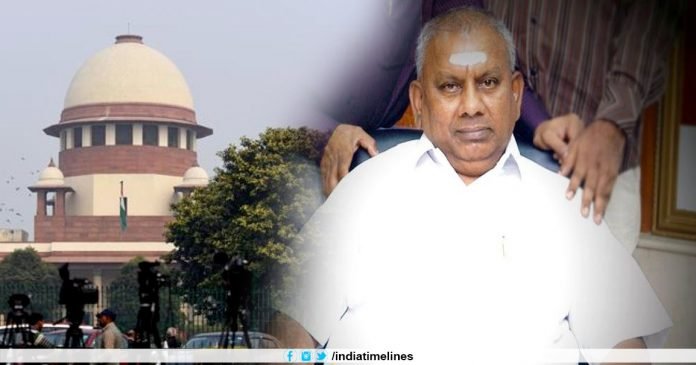 SC upholds life term of Saravana Bhavan owner for employee's murder: In October 2001, the owner of the hotel's Saravana group, accused of kidnapping and murdering an employee Rajkumar Shantakumar, P. Rajagopal was convinced so that he could marry his wife.  The Supreme Court on Friday framed the owner of the hotel's Saravana  Group. Rajgopal kept the sentence of life imprisonment and asked him to surrender by July 7. Rajagopal was convinced in October 2001 for kidnapping and killing an employee Rajkumar  Shantakumar. So that he could marry his wife.
SC upholds life term of Saravana Bhavan owner for employee's murder
Rajagopal was the owner of a provision store before opening the popular Saravana, a popular restaurant with branches all over the country. Madras High Court in 2009 found guilty of life in jail after searching  "a case with clear intention". In 2004, Rajagopal and his five colleagues-Daniel, Karmegan, Hussain, Kasi Viswanathan, and Patturangan- were award 10 years rigorous imprisonment by a special court. HC has imposed a fine of Rs 55 lakh on Rajgopal, which includes 50 lakh rupees as compensation for jeevajothi.
What is the matter against Saravana building owner P Rajagopal?
The case is in the late 1990s when Rajagopal gathered his eyes on a woman named Jeevanjothi. She was the daughter of former assistant manager at Ramasamy Saravana Bhawan. Rajagopal, who had two wives at that time, wanted him to become Jeevajothi third. However, he objected to the proposal.
In 1999, Jeevajothi married Shantakumar, a former tuition teacher, who had joined his company. According to the prosecution, Rajagopal threatened to break the marriage to the couple. But the couple refused to pay attention to their threats. For the latest updates, you can visit www.indiatimelines.com.
On October 1, 2001, the couple lodged a complaint in the local police and said that they were kidnapped and threatened by Rajagopal gang. In the same month, Shantakumar was kidnapped from Chennai and taken to Kodaikanal. He was murdered the same day.
Shantakumar's dead body found inside the Tiger Chol forests by officials of the forest department. According to Postmortem reports, he was strangled. Rajagopal surrendered on November 23 that year after the case became sensational. He got bail on July 15, 2003. Later, he was accused of giving a bribe of Rs. Six lakh to Jeevajothi and attempting to intimidate his family.