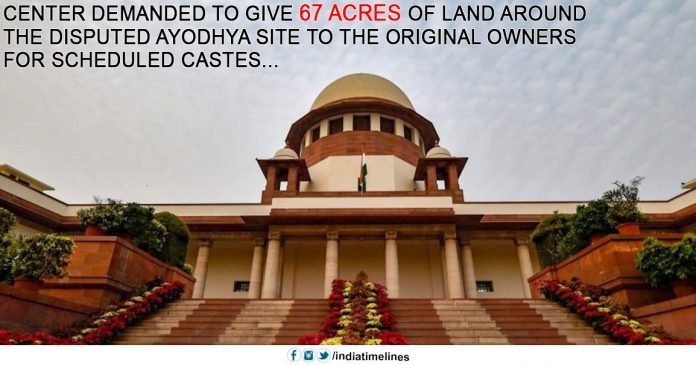 Ram Mandir-Ayodhya dispute- New Delhi: Modi government took a big step in the Ayodhya case on Tuesday. He filed an application in the Supreme Court and demanded that instead of disputed land of Ayodhya, 67 acres of un-disputed land should be returned to their original owners. Prior to the dismantling of the disputed structure in 1991, the then Central Government had acquired about 67 acres of land in the disputed site and its surroundings. The Supreme Court had instructed to maintain the status quo on it. Vishwa Hindu Parishad has welcomed this move of the Modi Government. The organization has said that the government has now stepped in the right direction.
Ram Mandir-Ayodhya dispute
Controversy over 2.77 acres of land
There is a dispute between Ram Janmabhoomi and Babri Masjid on 2.77 acres of land in Ayodhya. Ramlalla is currently sitting on this land. The center had acquired 67 acres of land around this 2.77 acres. The Center has said in its petition that the demand for returning the land acquired in 1991 to their original owners is of the Ram Janmabhoomi Trust.
Allahabad High Court has ruled nine years ago
The three-member Allahabad High Court had passed a decision on the proprietary rights of 2.77 acres of land on September 30, 2010, with a majority of 2: 1. This land was divided equally into three sides – Sunni Waqf Board, Nirmohi Akhara and Ram Lalla. Under the Hindu Act, Ramlalla is also a party in this matter.
The Allahabad High Court had said that the place where Ram Lalla's idol is, should be given to Ramlala Viharman. Ram Chabootra and Sita should be given to the unhindered akhada in a kitchen area. The remaining one-third part is given to Sunni Waqf Board.
This decision was not considered by the Nirmohi Akhara and the Sunni Waqf Board and it was challenged in the Supreme Court. The Supreme Court stayed the Allahabad High Court's decision on May 9, 2011. Ram Mandir-Ayodhya dispute case is pending before the Supreme Court. The Supreme Court's 5-member bench had also stayed the hearing on January 29. 14 appeals filed against Allahabad High Court's 2010 judgment have to be heard in the Supreme Court.
Ram Mandir-Ayodhya dispute: Justice Bhushan and Justice Nazeer were included in the bench
Chief Justice of India Justice Ranjan Gogoi reconstituted the bench on January 25 for hearing Ayodhya dispute. Apart from chief justice in the bench, Justice S.A. Bobde, Justice Y. V. Chandrachud, Justice Ashok Bhushan and Justice Abdul Nazeer are also included in the bench. Earlier, on January 10, the Constitutional Bench of 5 judges had started hearing the matter, but after hearing the hearing in the court, Sunny Waqf's lawyer Rajiv Dhawan questioned the presence of Justice Uu Falil in the five-judge bench. After this, Justice Lalit himself got separated from the bench.