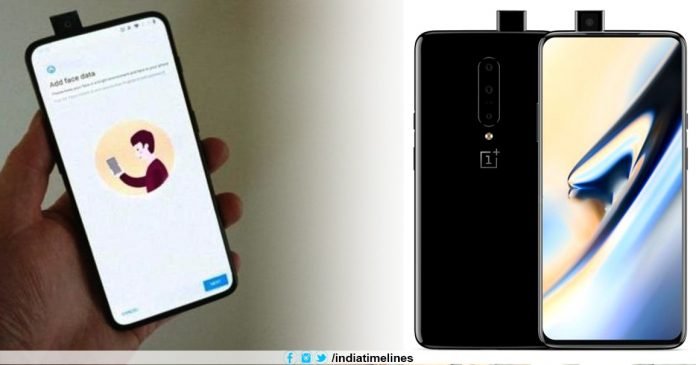 OnePlus 7 image leaked again: OnePlus7 has been making headlines for a long time and lately, the Chinese smartphone has been leaked to the upcoming flagship. All these leaks show a prominent feature of OnePlus 7. Which is a pop-up selfie camera? It should be noted that till now, no leak has clearly shown the OnePlus 7 pop-cell phone camera system.
However, in the best latest development, a new OnePlus 7 image has leaked, which clearly shows the smartphone's pop-up selfie camera. The image was seen on Weibo by a Twitter user @iGadgets_world and it shows the OnePlus 7 pop-up selfie camera on the left side of the device. Face unlock mechanism has also been shown in the image of OnePlus 7, which means that despite pop-up camera modules, one plus will stick to the Face Unlock option to unlock the device.
OnePlus 7 image leaked again, Expected specifications and features
In the meantime, there is the possibility of running Qualcomm Snapdragon 855 processor under the OnePlus 7 hood, while if these leaks are to be believed, OnePlus 7 will also be the first smartphone of the company to come up with the All-Display Front. On the other hand, OnePlus has also wandered 5G smartphones during the Mobile World Congress 2019, which means that the Chinese manufacturer will also launch its first 5G-compatible phone this year. The device is expected to have 6GB of RAM and can have 4,150mAh battery. As far as wireless charging is concerned, this will not happen in OnePlus 7, as the mobile world congress has confirmed in 2019 by CEO Pete Lau.
While other features of OnePlus 7 will include an in-display fingerprint scanner, approximately 95 percent screen-to-body ratio, OnePlus CEO Pete Lau has confirmed CNET that the upcoming flagship of the company, which is likely to be called OnePlus 7, will not come with wireless charging support because the company believes its wired fast charging technology is better than existing wireless technology in the market. For the latest news and more updates, you can visit www.indiatimelines.com.
Last year, we had seen leaks about OnePlus 6T, which claimed that the phone would come with such setup, but the company continued with the dual-camera backward. With OnePlus 7 though it is reasonable to expect a change in camera on the back.