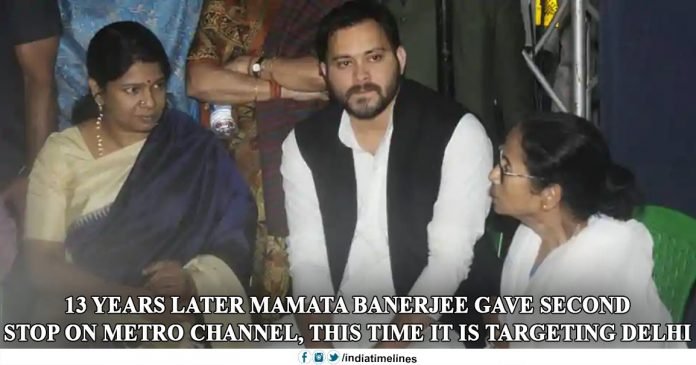 Mamata vs CBI LIVE:- West Bengal Chief Minister Mamata Banerjee is on hold from Sunday night They have lodged a protest on the Metro channel accusing the Central Government of misusing government agencies.
Kolkata, West Bengal Chief Minister Mamata Banerjee had a hunger for 26 days on the Metro channel 13 years ago under Singur agitation. Many people believe that this was where their political chariot had advanced and reached the seat of power. And today during his second tenure as the Chief Minister of the state, once again he started repopulation on the same metro channel from Sunday night. This time their target is on the Central Government whom they have accused of misusing the central agencies.
Mamata vs CBI LIVE
Mamta told reporters on Sunday, 'It is unique. In order to establish President's rule in West Bengal, they (center) are resorting to deceit. This is not less than the coup, it is a bigger crisis than the Emergency. ' They said, 'They want to control everything in Gabbar style. It is a constitutional breakdown. There is a need to keep the Constitution safe. The fear of losing the election is taking them towards frustration. They can resort to anything. They have to stop, otherwise, my satyagraha will continue.
Mamta Further said, "Bengal is not facing such danger only, but it is happening everywhere. They (BJP)are politically retaliatory. We have special input to this that they want to create communal tension in Kolkata. I want all the People to raise their voice against Showing Solidarity.
'They are uncomfortable over finishing institutions'
Let us say that BJP's national president Amit Shah and Prime Minister Narendra Modi had recently targeted Mamta Banerjee in the case of corruption during the rally in West Bengal. While the Chief Minister is accusing the central agencies of being misused. On Sunday, he said, 'Did you notice the language of the Prime Minister (in Durgapur rally)? Is it being done by courtesy of them? They have become a threat to the federal structure of the country. "I have been in the Parliament for a long time and I am not accustomed to such language which is being used against me. I do not speak such words as a woman. They are bent on eliminating institutions. I am badly hurt and will give up till it will not stop' , He further said.
Mamata vs CBI LIVE: Inquire from Mamta's close
Kolkata, suddenly came into the limelight on Sunday during the run-up to the Lok Sabha elections, when there was a sudden acceleration in the investigation of Pongi cases. After CBI seized Mamta's painting from the owners of Chit Fund, she approached Mamini Majumdar's door to stay for the longest time on Sunday.
This move has been raised 48 hours after the rally in BJP's President Amit Shah's Contai. In this rally, he alleged that the owners of Ponzi firm got the painting of Mamta Banerjee. In the 2018 election panchayat, BJP had surprisingly influenced tribal-dominated districts and in some areas of North Bengal. According to sources, Mamta feels that the rebel Mukul Roy from TMC helped in the BJP's election maneuver in Bengal and now they will target the police officials deemed close to the Trinamool regime.
Opposition parties support Mamta | Mamata vs CBI LIVE
On Sunday evening Mamata targeted the Central Government and said that on January 19, she has been disturbed by the rally on the Brigade Parade Ground and trying to stop the unity of the Opposition is being tried. He said, 'I have never given up in such pressure or will not agree.' Within an hour of her announcement, Mamata got phone calls from Congress MP Ahmed Patel and Delhi Chief Minister Kejriwal. Apart from this, Chief Minister N.Chandrababu Naidu of Andhra Pradesh, Samajwadi Party President Akhilesh Yadav and RJD leader Taskhish Yadav and even former Finance Minister Yashwant Sinha also supported their stand.
'CBI officials do not have resentment'
TMC MPs have been ordered to raise voice inside and outside the Parliament. He said, "I thank all the political parties who supported me." Mamta is going to meet the cabinet meeting on Monday from the site of the protest. Today, the budget of West Bengal is to be present.  "I do not have any displeasure with the CBI officials. She is working under the order. They are being ordered from Delhi. Chit Fund has been here since the '80, Mamta said.  Since coming to power in 2011, we have ended it. We arrested the culprits and returned their 300 crore rupees to the people. But before every election, they start it again. What has the CBI done in the past 5 years?