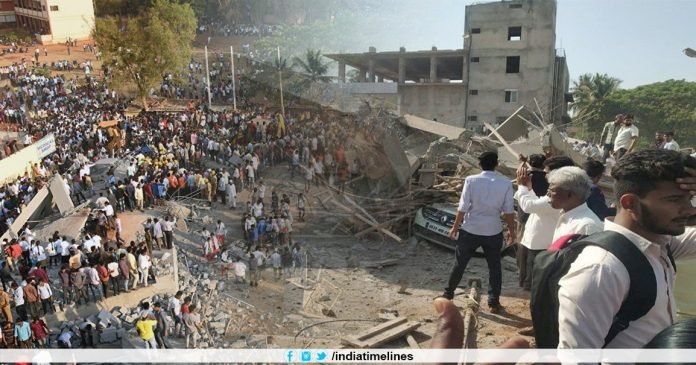 Dharwad Building Collapse: Police said that two people were killed and several others are feared trapped after a Construction building Collapsed in Dharwad in North Karnataka on Tuesday. MN Nagraj, Police Commissioner, Dharwad, Located about 450 km from the state Capital, said that the rescue operation was on and he could not confirm how many people still stranded in the Rubble. Deputy Commissioner Deepa Cholan said 30-40 people were stranded, besides 28 people trapped under the rubble.
Dharwad Building Collapse, 3 Killed, Around 40 Trapped as Under Building
"So far two people have been confirmed dead. We have deployed three cranes and Fourth earth movers," they said that the identity of the deceased has not yet been established. Karnataka Chief Minister HD Kumaraswamy expressed "trauma" on this incident. He said that he was advised the Chief Secretary of the state to ensure that the experts in Dharwad were sent to help rescue efforts to ensure that.
"Shocked to know about the Collapse of a building under Construction in Dharwad. I have instructed the Chief Secretary to monitor the rescue operations. Kumaraswamy tweeted that the CS has instructed to send additional resources and expert rescue teams to Dharwad by a special flight. For the latest updates and trending news, you can visit www.indiatimelines.com.
Meanwhile, Former Minister and Congress leader Vinay Kulkarni confirmed that the building had any relative of him. " there are about eight companions, one of whom is my relative", They said. "it is a big tragedy and it does not matter whose  fault it was." the action should be taken.",  he said.
police said that 28 people have been evacuated from the rubble. Police said the injured were admitted to the hospital. Ten Ambulances and five fire tenders were deployed to carry out relief and rescue operations. The resident said that there were many shops on the ground and many people often used to come there. Most of the stranded people were migrant laborers from North India