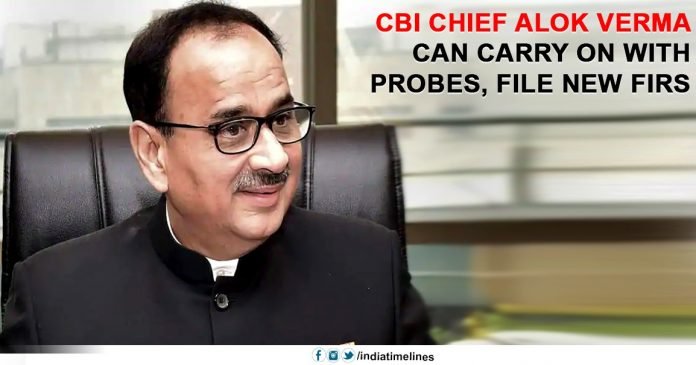 CBI chief Alok Verma can carry on with probes: The Supreme Court on Tuesday ruled out its verdict on the ongoing two-month dispute in the Supreme Investigation Agency Central Bureau of Investigation (CBI). The Supreme Court has ordered the CBI Director, Alok Verma, who has been sent on leave, to be reinstated. Alok Verma went to CBI office today and took over as director However, he will not be able to take any policy decision for the next one week. On Wednesday, Nageshwar Rao received Alok Verma in the CBI office, Nageshwar Rao was posted as interim director in his absence.
Supreme court decides on reflex center, CBI chief Alok Verma can carry on with probes
It is to be mentioned that after the encounter with the two officers deployed in the top positions in the CBI, the Central Government had been sent on leave for both. After which the CBI director, Alok Verma had filed a petition in the Supreme Court, on Tuesday, the Supreme Court has upheld the Centre's decision and said that he does not have the right to take this decision.
CBI chief Alok Verma can carry on with probes, file new FIRs. The Supreme Court has said in its judgment that besides the dispute between the officers, the center should also take care of the dignity of the CBI Director's post. This type of decision can only be taken by a high-level committee, in which the Prime Minister, Chief Justice of the Supreme Court and Leader of the Opposition in the Lok Sabha are involved.
However, in his verdict, Supreme Court has not fully relieved Alok Verma. According to the court's decision, the high-level committee will decide on the allegations related to Alok Verma. Alok Verma will not be able to make any major decision after this committee has to give his decision within a week.
Talked Center – Decided on the recommendation of the CVC
Significantly, the Central Government welcomed the decision of the Supreme Court. On behalf of the government, Finance Minister Arun Jaitley had said that the Central Government had made the decision only on the recommendation of the Central Vigilance Commission (CVC), that he will read the detail of the Supreme Court in detail and follow it.
In the case related to Alok Verma, the judge who passed the verdict, Chief Justice Ranjan Gogoi, Judge Sanjay Kishan Kaul, and Justice K.M. Joseph was involved. Let me tell you that Alok Verma as the CBI Director is ending in January this year.