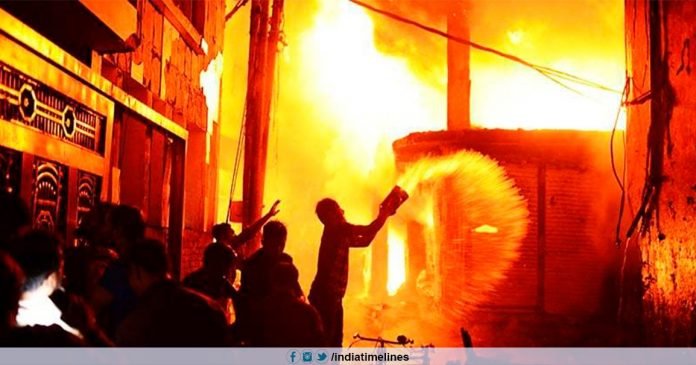 Bangladesh Fire: At least 69 people have died in the explosion caused by an apartment building in an old part of Bangladesh's capital Dhaka, which is also used as chemical warehouses. Dozens of people were stranded in buildings, were unable to escape on the narrow streets filled with traffic, because the chemicals, body spray and plastic grains in the flames became more combustible.
Fire control room officer Mahfuz Riben told that 69 people have been killed while the fire service chief of Bangladesh Ali Ahmed said that the number of people who could die could increase further.
Bangladesh Fire: At Least 69 Dead As Fire Breaks Out In Apartments
They said, "The number of bodies can increase. The search is still going on," he told. Ahmed said that the explosion in Chawkbazar in the old part of the city could start with a gas cylinder, which soon spread from a building, where chemicals were stored.
The flames went through four nearby buildings, which were also used as chemical warehouses."Traffic jammed on fire, it spread rapidly so that people could not survive," he said while describing a part of the city where the roads are very narrow and the residential buildings are only centimeter different.
Another firefighting officer told reporters that a fire broke out around 10.40 am (16:40 GMT) on Wednesday morning, which has not been "limited" despite the efforts of more than 200 firefighters but has not been extinguished so far.
"It will take time. It is not like any other fire," he said, adding that the "highly combustible" chemicals were stored there due to the destruction of the hell became very destructive.
TV images showed that the main gate of one of the buildings was closed, its residents were trapped, unable to escape the blast because it was flowing through its five-story way.
Bangladesh Fire, Witnesses said that members of a bridal party in the nearby community centre were also caught in the fire and many of them were injured. Ibrahim Khan, Deputy Commissioner of Dhaka Metropolitan Police said that at least two cars and 10 bicycle rickshaws were burnt in the fire.
"The passengers in the victims, some people who were eating at a restaurant and some members of the bride side were involved," he said.
A Police Inspector of Dhaka Medical College Hospital, Bacchu Mia said that at least 45 people were injured, four of which were in serious condition. Hundreds of people reached the hospital to find missing relatives.
Haji Abdul Kader, who was destroyed in the fire, said that he escaped only from the blast when he left the shop to go to a Pharmacy. "When I was in the Pharmacy, I heard a Big Bang. I turned back and saw the whole street, which was loaded with cars and Rickshaws. "I got burnt and reached the hospital," he said.
One of the injured Sohag Hussain told the daily star that he and his two friends were working in a Plastics Factory in a building while the fire. Suddenly, they heard a big noise they tried to flee but could not escape the fire. For the latest updates visit www.indiatimelines.com.
In 2010 a similar explosion occurred in an old  Dhaka building, which was also used as a chemical warehouse, more than 120 people died in one of the worst disasters the fire.