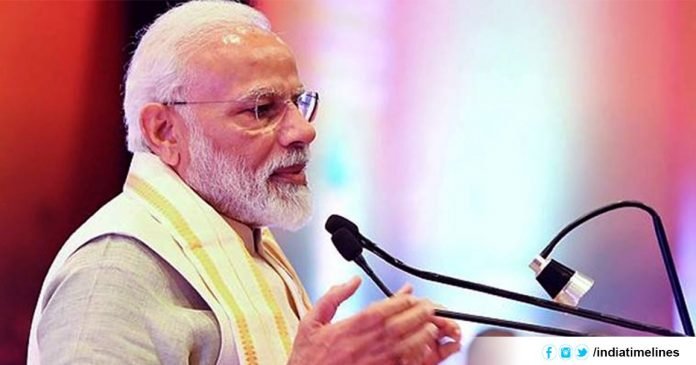 Abhi Abhi pilot project Pura Hua hai, Abhi real Karna hai: After the announcement by Pakistan that he will release Indian pilot congratulatory Wardhaman on his release on Friday, Prime Minister Narendra Modi gave a speech at Vigyan Bhavan during the Shanti Swarup Bhatnagar prize at the Science and Technology Festival in New Delhi.
"You are the people who spend their lives in the laboratories, you follow the practice of pilot projects first, after the completion of the pilot project, the project is made scalable, we just have a pilot The project has been completed. The real has not been done so far, only the practice has been done so far and in reality, there is actually an oven for today's award winners", The PM said.
Abhi Abhi pilot project Pura Hua hai, Abhi real Karna hai: PM Modi
It comment has generated a lot of keen responses on Twitter. Earlier, Prime Minister Narendra Modi had said in an attack on Pakistan that India needs to unite against the "Bad design" of its "enemy", which was conspiring to destabilize the country. During the interaction with Bharatiya Janata Party (BJP) activists through video conference, the PM said: "The enemy tries to destabilize us, executes terror attacks, they want to stop our development. Standing like a rock to counter this evil design".
Pakistan's Prime Minister Imran Khan on Thursday said that his government has decided to release the Indian Air Force (IAF) Wing Commander Abhinandan Vithman Today (March 1). "As a sign of peace, we have decided to leave the Indian pilot in his custody", He said.
Meanwhile, government sources told that India is not in the mood to negotiate any deal and she wants to immediately withdraw the congratulations.
Pakistan had claimed on Wednesday that it killed two Indian fighter jets in Pakistani airspace and arrested a pilot during a face-to-face fight between the two countries. The Foreign Ministry later confirmed that a MiG 21 was lost and the pilot was "missing in action".
"Pakistan is only a pilot in the custody of the military. Major General Asif Ghafoor, spokesman for Pakistan's armed forces said, "Wing Commander congratulations are being considered according to the criteria of military morality." Soon, the video started coming from Pakistan on social media, in which congratulations were played – one showed him by a mob, while the other showed him questioning. For the latest news, you can visit www.indiatimelines.com.
According to the Defense Portal, bharat-rakshak.com, Abhinandan were appointed as a fighter pilot on June 19, 2004. It has been learned that he had recently completed his training at the Defense Services Staff College in Wellington, Tamilnadu. The courses train and officers of all three services for employees' appointments.
Since 2014-15, the government has invested around 2.5 lakh crores in PSB till February 2019. During this period, these banks have raised Rs 66,000 crore.