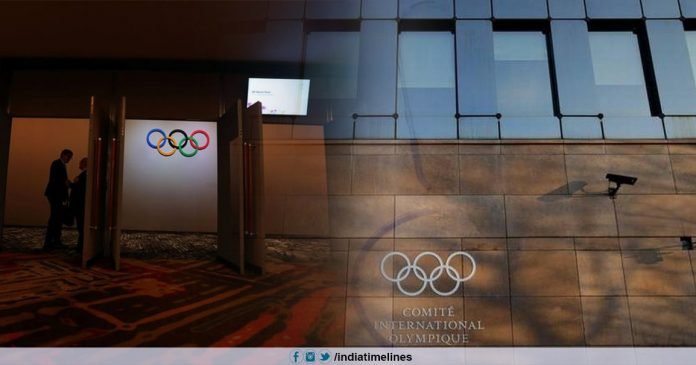 After India denies visa to Pakistani athletes:- After the International Olympic Committee has not issued a visa to Pakistani shooters for the World Cup in New Delhi, it has decided to "Suspend all the discussions" with India to host global sporting events. The Olympic Committee canceled last week's Olympic qualification status for men's 25 meter Rapid Fire event from the New Delhi World Cup due to refusing to give visa to Pakistani shooters during the Pulwama terrorist attack, in which 40 CRPF personnel were killed…
After India denies visa to Pakistani athletes, olympic body suspends talks on global events
The IOC said that it will not allow India to organize events related to the Olympics in the future unless written assurances from the government are found. After the information of the terrorist attack, the involvement of two Pakistani shooters in the tournament became questionable. International Shooting Sports Federation (ISSF) President Vladimir Lysin announced that just after the IOC decision, all the 16 Olympic quotas will be allocated for the 2020 Games. However, keeping the 14th, the top body restricted the quota to only two.
"IOC banned withdrawal of recognition in the 25-meter rapid fire pistol event as Olympic qualification program, in which two Pakistani athletes were to participate. IOC said in a statement after meeting of its Executive Board in Lausanne, Switzerland on Thursday that it was in the interest of the other 500 athletes in 61 countries who are participating in other competitions, which are already in India. For the latest information, you can visit www.indiatimelines.com.
"Since this issue is revealed and in spite of the joint efforts made by the IOC, ISSF and the Indian National Olympic Committee (NOC), and with the Indian government officials, there is no solution to allow Pakistan have not received. Delegation to enter India to compete. "Said the statement. To go against the Olympic charter, the IOC was heavily burdened with India.
After India denies visa to Pakistani athletes | Sports News
"This situation goes against the fundamental principles of the Olympic charter, especially with the principles of non-discrimination, the status of IOC and the Olympic movement has been repeated over the last few years on several occasions, that should be guaranteed equal treatment All participating athletes and sports delegations in international sports events, without any discrimination or political intervention from the host country.
"As a result, the executive board of the IOC decided to postpone all discussions with Indian NOC and the government about possible applications for hosting future sports and events related to the Olympics in India, unless written by the Government of India clearly Guarantee is not received. IOC said that admission of all participants in such events is to fully comply with the rules of the Olympic Charter and it is to recommend that the International Union (IFS) neither offer the award nor organizes sports events in India.
The Pakistan Shooting Federation on Wednesday requested the ISSF not to give quota space in the programs where their shooters were scheduled to participate. Pakistan had applied for two shooters – G.M. Bashir and Khalil Ahmed for the visa, which was in the category of fast fire as the event of New Delhi, also worked as a qualifier for the 2020 Olympic Games.