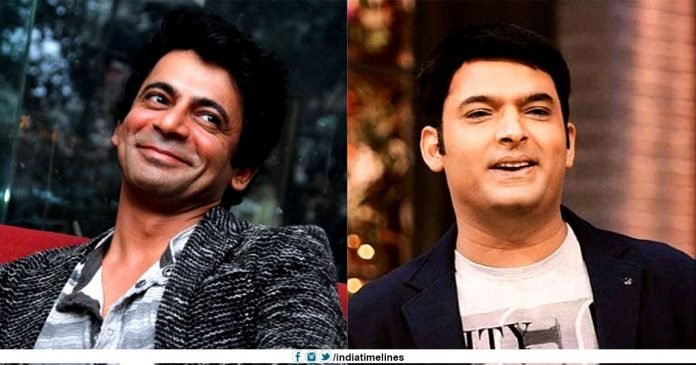 Finally, Sunil Grover and Kapil Sharma to FINALLY reunite on Kapil Sharma Show? Sunil Grover and The Kapil Sharma has returned to the Show. But before you go to some conclusion, the comedians are not permanently returning to the show, but to promote Salman Khan's next venture, where he is playing an important role, according to a recent report, Sunil Grover reportedly will be  featured in the lead role of Salman Khan and Katrina Kaif in the comedy show.
Sunil Grover and Kapil Sharma to FINALLY reunite on Kapil Sharma Show
The rumors of Sunil's return to the show are going on since the news of his comedy show Kanpur-based Khurana's off-air was on the internet. However, director of the star plus show Preeti Simoes denied this possibility and said that Sunil would complete the shooting of Khurana after wrapping Bharat. At present, the finite comedy show is not being broadcasted, but will soon be returning with its remaining episodes. For the latest updates, you can visit www.indiatimelines.com.
In the previous interview, Kapil Sharma had said that he is hoping to reconnect with Sunil again. "leave the old things, he (Sunil Grover) is my friend but he has some film commitments, he is working in Salman Khan's film in India, besides the readers are also ready. I met him and show him he told that he has some commitments, but we have to start the show near Diwali, as soon as Sunil is free from his commitments. He will be long since that would be included in the show. The film commitments remain between 30 to 40 days. All time most welcome," Kapil said that in an Interview.
Sunil Grover to finally reunite with Kapil Sharma on his show, May be possible to work with together in Show, Sunil Grover also expressed his desire to return to the show. " If God wants, it will definitely be done.  His (Kapil Sharma) show is coming and my best wishes are with him. Kapil is a great entertainer who laughs with people. If God wants, we definitely will work with someday." He said that.