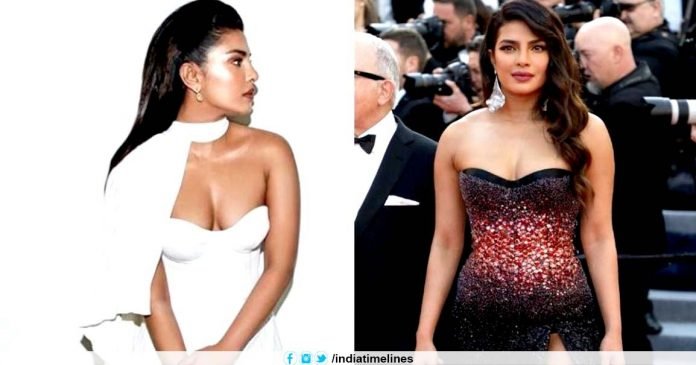 Priyanka Chopra dazzles in two different looks on Cannes:- Priyanka Chopra greeted everyone on this occasion of Cannes in Indian style. This is the first debut of Film Actress Priyanka Chopra on the Cannes Red Carpet Festival of 2019, which is why everyone's eyes were looking her.  eyes are seen for her It is worth mentioning that on this occasion, Priyanka Chopra mesmerized all the people looking at her by using her Me Time full on the red carpet. It is worth mentioning that on this Cannes Film Festival, Priyanka Chopra full used "Me Time" on the Red Carpet, and made all the people watching her spellbound with her adolescence.
Priyanka Chopra dazzles in two different looks on Cannes
PCs are debuting with the 72nd Cannes Film Festival. For the first time, she will walk on Red Carpet of Cannes. Recently Priyanka is staying at the French hotel at this time. From there, she has also shared some pictures on her Instagram account.
On her first appearance in Cannes Festival, we wear a shining Black and Brown color gown, in which she is looking beautiful. Apart from this, she also wore another dress that was in white color. All were eagerly waiting for Priyanka Chopra to get a glimpse on Red Carpet. Prior to this, Priyanka greeted everyone with her hand and was also seen smiled on her face.
Priyanka Chopra has shared many photos on social media since then, in which her hot style can be seen. Since Priyanka Chopra has married Nick Jonas, her reputation has increased globally since then and she has now come to be known as a global actress. Keeping this in mind, Priyanka Chopra has done complete justice with her style and she has also been successful in doing this. Priyanka Chopra was seen in her first Met Gala Event, where she got trolled on social media for her look. For the latest updates, you can visit www.indiatimelines.com.
The situation got worse when someone mixes her photo with West Bengal Chief Minister Mamta Banerjee's photo through photoshop. But Priyanka Chopra stunned all of them and stunned everyone at the Red Carpet on the Cannes Film Festival 2019.