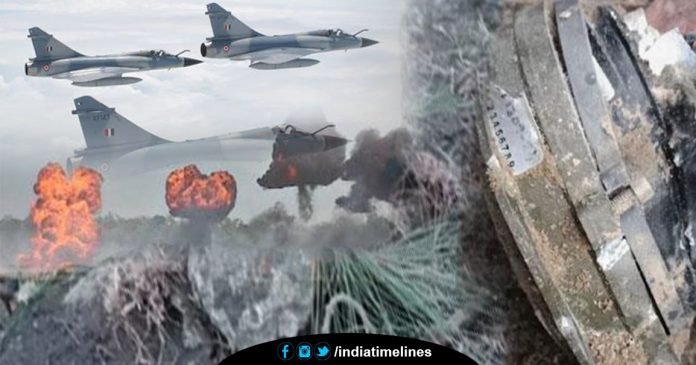 India Strikes Back LIVE Updates:  Pakistan on Tuesday alleged that Indian Air Force jets crossed the Line of Control (LoC) from Muzaffarabad sector in PoK. Top government sources said that about 200 casualties have occurred since the IAF strike. It has been learned that the decision to attack Pakistan itself was taken by Prime Minister Narendra Modi.
While the Air Force officials refused to comment saying that they have "version of Pakistan", there is nothing to answer, the sources told that force-The target of Jaish-e-Mohammed is laser -two bomb.
India Strikes Back LIVE Updates: Indian Air Force jets crossed LoC
The Indian Air Force says that they conducted air raids on militant camps and launch pads across the Line of Control (LoC) in Pakistan-occupied Kashmir at 3:30 in the early hours on Tuesday. Sources of Indian Air Force said that 1,000 jigs of bombs were dropped at the places of Jaish across the LoC by several jets, including IAF Mirage 2000. Earlier on Tuesday morning, Pakistani military spokesman Major General Asif Ghafoor alleged that the IAF destroyed the Line of Control. Ghafoor tweeted that Indian aircraft infiltrated Pakistan from Muzaffarabad sector and dropped payload in Balakot Sector. However, he claimed that there was no casualty and loss in the attack in Pakistan-occupied Kashmir.
India Strikes Back LIVE Updates, Responding to the Pulwama terror attack, the Indian Air Force (IAF) fighter jets crossed the LoC on Tuesday and dropped 1,000 bombs of 1,000 kg at Jaish-e-Mohammed (JeM) terrorist camps). JeM took the responsibility of the Pulwama terror attack.
12 Mirage-2000 fighter jets carried out air raids on JeM terror camps by crossing the LoC. According to reports, JeM's three alpha control rooms were destroyed in these attacks. However, the Indian Air Force has not yet confirmed air strikes. IAF is likely to hold a press conference later in the day to provide details of the strike.
NSA Ajit Doval has briefed Prime Minister Narendra Modi about the air strikes by Indian Air Force. All fighter jets who carried out these attacks returned safely back to their Indian bases. All these fighter jets pilots have returned safely after the attacks… For the Breaking News, you can visit www.indiatimelines.com
After 12days the Pulwama terror attack, there are reports of major action on Terrorist bases in Kashmir occupied by the IAF. According to the sources,Today Mirage planes of the air Force devasted the terrorists by destroying the Balakot at PoK. How many terrorists have been killed in this attack, it is not known yet. It is believed that the number of terrorists killed can be 200 to 300. Let us know that this is the first time that the Indian Air Force has crossed the border in peace. On the other hand, the Pakistani army is accepting the entry of Indian aircraft into the PoK, but it is rejecting the news of any major loss.